In the broader conferencing marketplace, most solutions designed for meetings and collaboration don't have a typical multiple-choice polling function. After all, the average virtual meeting or conference call is about seven participants, and behaviorally you'd simply address a question verbally (even if you were voting on something). Microsoft's Skype for Business breaks that mold.
Skype for Business does include a multiple-choice polling function. It's communication paradigm is still the "call," albeit in a more unified communications context (i.e., calling, contacts, meetings/collaboration, instant messaging). And even though it will scale to approximately 250 participants, don't expect the poll to have as much flexibility as you'd expect from a full-on webinar solution.
Still, it's cool that polling is included in Skype for Business. What follows are 11 factoids to help you navigate to success arranged in three buckets: key parameters to know, getting ready, and go! (execution).
Key parameters to know
Factoid #1: You can create as many polls as you like for a session.
I (Roger) only tested it by creating five polls, so I'm extrapolating that you could create more. Still, that's a lot of polls for just about any session.
Factoid #2: You may include up to seven answers for the question you're posing.
Need more than seven potential responses? You'll need to use a separate tool with Skype for Business.*
Factoid #3: Poll respondents may choose one answer only.
"Select all that apply" is not an option, so plan accordingly.*
Factoid #4: Your choice of formatting is radio button, radio button, or radio button.
Did we say "radio button?" To be fair, not even a lot conferencing/webinar systems give you other display options (e.g., drop-down menu).*
Getting ready
Factoid #5: You'll want to log into your session early to create your poll(s).
Plan to join your session early as polls can only be created in-session. They disappear when you're session is done (you can't create them in advance and 'save that room' or otherwise save them for re-use).*
Factoid #6: You have to name your Skype for Business poll to create it.
The name of the poll is what will appear in "Manage Assets" as you're switching between types of presentable content (yes, even if you're firing up a poll on-the-fly, you still have to name it).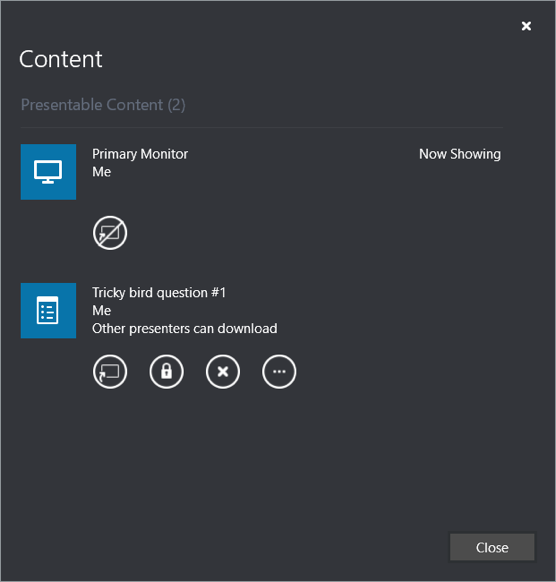 Tip: Remember that the "Create" button does not come alive (see the grayed-out "Create" button in the image below?) until you have a) named the poll, b) created a question, and c) entered at least two answers. You can rename the poll once it has been created.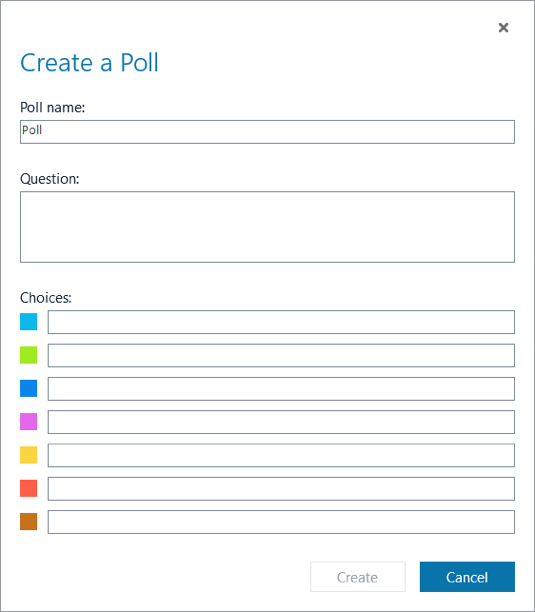 Factoid #7: You can change who has permission to download the poll results: Everyone, Presenters Only, or Organizer Only.
The default is "Presenters Only."
Factoid #8: Creating polls automatically pushes them live.
If you want to control the timing of when you poll the audience, it will be useful to remember that hitting that "Create" button instantly puts that poll up in front of the 'room.' Controlling timing, then, means you'll either need to create it at the moment of need (which means being forced to name the thing will feel like a useless pain in the butt), or you'll want to log in early to get set up (Factoids #5 & 6).
Go!
Factoid #9: Skype for Business polls default to "Results are hidden from attendees."
Most softwares' polling systems operate this way, but it's sometimes easy to forget if you create a poll that is instantly live in front of everyone (Factoid #8). Of course you can change that on the fly (see the "Poll Actions" menu button in the lower left) to show the results when you want.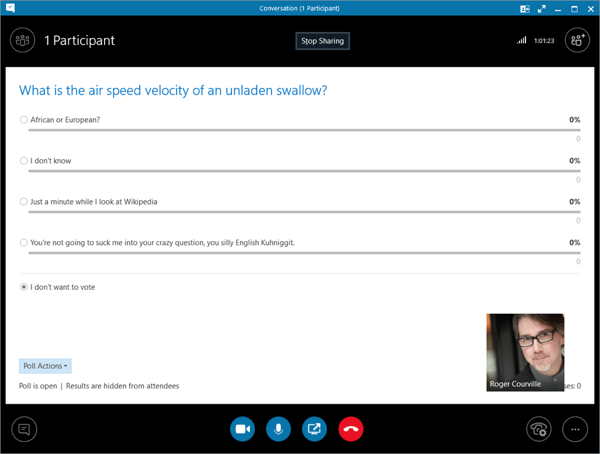 Factoid #10: Saving the poll results is a choice of either .png or .csv.*
That same "Poll Actions" button in the lower left will reveal the ability to save that poll's results. If you have multiple polls, you'll need to save each separately.
Saving the results as a .csv is captures the numeric count only (not the percentage of votes per answer, nor does it include the number of participants in attendance, so you'll need to remember or record that). Here's an example of what a Skype for Business poll report looks like: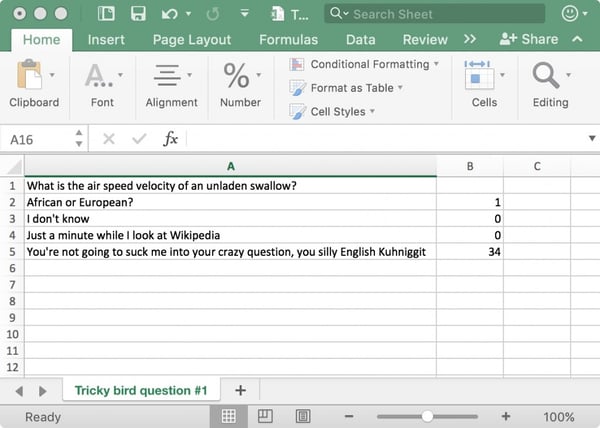 Saving the poll as an image file saves exactly what you see onscreen, but at least you'll see the percentages.
Neither option captures how individuals voted.
Factoid #11: Skype for Business lets you "Clear everyone's votes."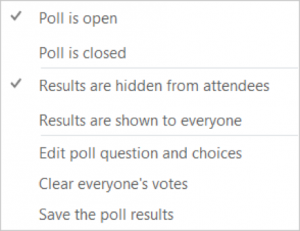 This is a great feature -- a lot of webinar systems' polls don't do this. "Clear everyone's votes" would let you re-use a poll (an exa
mple of which might be taking an attitude check before and after a big announcement).
*The bottom line
We love Skype for Business here (obviously!). It has a TON of features not found in typical online meeting platforms. Conversely it also isn't really designed for the complex and specific workflow and needs of most webinar and real time virtual training programs.
If we're lucky, we've earned a bit a cred by sharing some genuinely helpful things-to-know without being super in-your-face that EventBuilder's Gateway for Skype for Business handles polling the way you might expect from a software that is designed for webinars.
Oh, and we're pretty proud of the fact that we think we've got a better approach to the whole polling thing, too.
Best of all? Even if you add our Gateway, you're still utilizing your Skype for Business investment and every presenter stays in the same familiar environment they use day-to-day for calls, meetings, and collaboration.