Are you leaving money on the table because your webinars are still partying like it's 1999?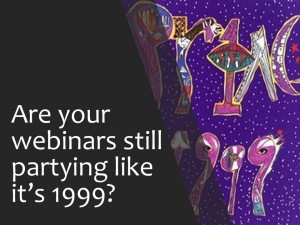 There has never been a better time for using B2B webinars as part of your marketing and sales strategy. The challenge for some organizations, though, they're still doing webinars as one offs failing to understand how a webinar program is affected by gradual trends.
As you think about 2017, here are nine worldwide trends that should be convicting of marketers to align their webinar program with a larger strategy. None of these trends should be a surprise. The question is whether or not you're going to take time to rethink your approach.
#1: The economics of attention spans
You're holding a webinar for a reason: You want someone to register and become a lead, but you also want them to hear your message. If they don't show up from the neck up, you miss a valuable opportunity. Real people connect with real people, and live webinars are an excellent opportunity to get and keep attention.
Take action
Create a plan to master all four dimensions of engagement: content, design, delivery and interaction.
Use a psychologically proven model to create compelling, can't-miss content.
Design an audio/visual/video experience that includes – but is not limited to – a great looking presentation.
Deliver authentically with voice that draws people into the experience.
Interact in a natural and authentic way to turn passive viewers into active participants.
#2: Backchannel
People are multitasking and conversing at events of all types (including in-person events). Are you going to ignore, react to or get out in front of the conversation to be a thought leader and initiator? For webinars, the backchannel often happens in the chat panel of the webinar solution and via social media, like Twitter.
Take action
Even if you hate Twitter, learn how to initiate the conversation and interact with participants. Help non-Twitter users be part of the conversation by helping them be observers of it. Don't ignore the power of the chat or Q&A that's built into your webinar, webcast, or virtual classroom solution. Have a plan (if not a team) prepared to help across channels.
#3 Time (re)scaling
Web conferencing is a medium, yet a webinar has come to mean "45-minute presentation + Q&A." Why? Different types of webinars can and should have different durations, and savvy marketers will take advantage of both shorter and longer forms depending on their webinar type and goals.
Take action
Consider segmenting types of webinars based on the stage of the customer discovery/buying cycle. Short webinars may generate more leads, as the commitment asked of the prospect is shorter. However, other prospects may benefit from a longer educational investigation of your product or services – and have the patience to be present because of a different level of interest.
#4: Presenter video
While webcam quality and reliability is better than it has ever been, the relative newness of using it uncovers two new challenges. Presenters may be unaccustomed to presenting online while also being seen by the audience, and our 2011 study of nearly 1200 people found that top audience complaints of speakers on video were "distracting mannerisms or gestures" and "cluttered or distracting background." It's still relevant today.
The opportunity to deliver impact with presenter video is huge. In addition to personalization, presenters who learn to adjust to using the camera can dramatically improve their impact with non-verbal expression.
Take action
Train presenters to become aware of how they appear on camera. Use the power of eye contact during critical points in the presentation (e.g., openings, closings, key points). Avoid relying on the camera at the expense of creating appealing visuals (e.g., well-designed slides, guided desktop demonstrations, etc.). Don't be afraid to turn the camera off during portions of the presentation to focus attention on other visual elements.
#5: Globalization/tribalism
Presenting globally introduces challenges of time zone, language and culture barriers. Globalism and the web have also given rise to tribalism – the desire for connectedness among like-minded people. The opportunity is to lead and guide conversation and connectedness not only with the thought leaders who are put on stage, but to create momentum and community in a way that fuels future webinars and programs.
Take action
Ensure relevance and inclusiveness (e.g., choose a different analogy than "American football" for the global audience). Equip presenters with awareness of cultural or news issues which may influence how the audience hears a message. Enable like-minded attendees to connect and stay connected, both for each other and for future webinars (e.g., participating in the same Facebook group).
#6 Monetization
As lead nurturing grows in practice, the focus on webinars evolves from "Did I get a lead when they registered?" to other measurements (i.e., "What was the conversion rate of webinar leads that cost us X versus another lead that cost us Y?"). Two characteristics of webinars create opportunity to create more value. One, real human-to-human contact has amazing potential to get and keep attention. Two, engaged participants are more likely to vote in polls, submit questions and respond to end-of-webinar surveys with useful information that deepens the understanding of the marketing and sales efforts.
Take action
Consider framing the value of webinars in executive language: Make money, save money, reduce risk, improve time-to-market and/or improve response time. Remember that while anything can be measured (technically), it may not always be prudent or necessary, and it is often sufficient to simply get credit for success with acknowledgement (e.g., the sales VP gives open appreciation that the team liked and wants to extend the program).
#7: Crowdsourcing
One key challenge for content marketers is knowing exactly what content to prioritize. This is exponentially complicated when you begin segmenting content by markets or customer-decision cycles. The tools built into your web conferencing platform, however, are ideal for gathering additional data that will improve nearly any factor of lead-generation effectiveness. The short-term result: better qualified leads. The long-term result: targeted, better-producing webinars and programs.
Take action
Use every point in the webinar lifecycle to ask questions that will help you target and refine relevance (e.g., time of day, duration of webinar, topic prioritization, etc.). Consider using audiences to source content such as FAQs or resources. Evaluate webinar reports over time to identify trends.
#8: Design thinking
In many organizations, webinars occur as one-off events, which leaves money on the table in several ways, like underutilization of data-collection/lead qualification, failing to build momentum and generate more leads with a program-based approach and lack of insight because data exists in silos. The opportunity is the opposite of these maladies, but only happens with intentionality.
Take action
Think "agility" like a web-based publisher. Reduce development costs by re-purposing segments of presentations. Create program momentum with cross-promotion. Leverage multi-webinar reporting that uncovers insights and trends.
#9: Flexible work
The challenges and opportunities associated with flexible work styles exist on two fronts for the marketer. Mobile workers can attend webinars on phones or tablet devices from anywhere, demanding a new consciousness for content creators. Marketers are also finding that flexible work arrangements mean that the project management of producing webinars and programs increasingly involves remote team members. The opportunity? Increasing the supply of awesome talent you put on stage in real time with anyone, anywhere.
Take action
Teach presenters two things:
One, how to design for a new environment. Online presentations demand different flows and content.
Two, how to create a sense of presence or inclusion for all attendees. To get there with your presenters, go beyond "send me your PowerPoint" and instead host a quick rehearsal in the actual conferencing platform.
This will accomplish two important things: the speaker will grow in comfort with the tools that enable natural, authentic delivery, and you can explore (together) the options for increasing interaction (e.g., using a poll).
The bottom line
If you're webinars are one-offs, it's and still looking like they did a few years ago, it's up-level your webinar program. It's not hard, just different, to refocus on strategy, engagement and scale.