Toastmasters International is finally allowing clubs to be formed and conducted entirely online. To the best of my knowledge, though, the Competent Communication manual, their essential guide, does not have an online equivalent – until now, that is.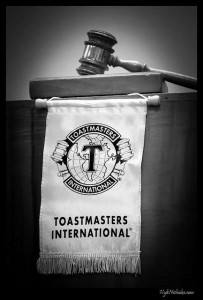 This post will take each of the ten speeches in the Competent Communication process and offer insight into how to approach it both as a speaker and an evaluator. Note that if you're not familiar with the Competent Communication manual or its content, this won't replace it – I'd encourage you to get your own.
Project 1: The Ice Breaker Speech
Since the goal of The Ice Breaker is to get your feet wet (pun intended), just showing up and delivering is a winner.
If you're speaking, show up and be seen and heard. That's it. It's like having a street address and directions to where an offline club is meeting and getting there on time. Work with your club coordinator to ensure that you can log into the web or video conferencing technology and that it's working.
If you're evaluating you will be, of course, giving feedback, but this will be primarily encouragement ("done" = "success!"). Being able to hear is the most important criteria to consider. Remember, hearing without seeing still gets the communication done; seeing without hearing probably doesn't.
Project 2: Organize Your Speech
Well organized content is just that, regardless of the medium you deliver it through.
If you're speaking, consider challenging yourself to do one additional point of awareness to how you present from your virtual stage. Two suggestions:
Use a headset microphone (instead of the one on your computer). It'll dramatically improve how well you're heard.
Stand up while presenting. This will mean you may need to re-arrange the position of your computer so you're seen well.
Consider lighting. Make sure your face can be seen clearly.
If you're evaluating, this speech is still about content. Stay focused on that primarily, but do provide feedback if audio or visual acuity is sub-par as this inhibits effective communication.
Projects 3 and 4: Get to the Point and How to Say It
These speeches are also about content.
If you're speaking, these speeches will now include evaluation about nervousness or how well you did without notes.
If you're evaluating, what might the speaker do to mitigate appearing nervous on camera or use their notes more effectively?
Project 5: Your Body Speaks
Now we begin to also assess body language. Many of the same learning objectives apply (e.g., using movement, gestures, facial expressions, and being smooth and natural). The goal is still to have body language support and enhance your message, but you may find that how something appears on camera is different (for example, a "big gesture").
If you're speaking, consider how your posture (standing or sitting) will affect your gestures. Make sure that movement and gestures appear on camera. Make eye contact with the camera.
If you're evaluating, use the same criteria as for the in-person speech. Pay particular attention to how the medium affects how the audience perceives the speaker's movement.
Note: I have not mentioned slides as those would be "props" in the Toastmasters world and not covered yet, but getting and keeping attention in a virtual speech puts additional emphasis on visual engagement that is not the speaker.
Project 5: Vocal Variety
Effective use of voice is more important online than off. Because your body language may be slightly less dramatic in a typical webcam situation, carrying meaning with your voice becomes more important.
If you are speaking, pay attention to how you hear yourself – you're not likely going to hear ambient room and audience sound that you may be used to. For example, without it, something like a pause may seem extra long to you when it does not to your audience. Ask for feedback on your timing and how you carried meaning with your vocal variety.
If you are evaluating, give the speaker feedback on how their voice was perceived from an audience's perspective. It is common that they will think they have a lot of vocal variety and it doesn't come through as over-the-top to the audience.
Project 6: Research Your Topic
This speech is another evaluated for content. Visual aids are not the primary focus, but may play a role, so now your task is for those to communicate effectively in the new "room."
If you are speaking, what is the nature of your visual aid? If it is physical, make sure it appears on camera when you show it. If it is tactical, make sure you use descriptive language about it since your audience won't be able to touch it. If it is viewable on your computer desktop, learn how to "desktop share," put it in PowerPoint, or both.
If you are evaluating, focus first on how easily the visual aid was seen by the audience. While the primary objective is that it supports the speaker's message, it's useless if it can't be seen.
Project #9: Persuade with Power
While also about content, this speech starts to bring together all previous learning. The online environment shifts some of the importance from the view of the speaker (now less so) to the view of other visuals (now more important). Engagement should also begin to be interactive.
If you are speaking, consider adding an element of "capture or recapture attention" that includes at least one other tool in your video/web conferencing environment. Is there a "hand up" feature? Polling (multiple choice) option? Ability for someone to type something in? You don't want to ask them to do something that is meaningless motion – make sure it maps to what you are communicating. And if you ask them to do something, how will you respond? Read a chat comment back or acknowledge them by name or comment on polling results?
If you are evaluating, remember that I am adding a significant variable here – there are potentially a lot of interaction tools a speaker could use, especially if you're using a professional platform. Consider offering ideas of how the speaker could have used a tool differently or a different tool to enhance communication and engagement.
Project #10: Inspire Your Audience
You've arrived! Speech 10 is a chance to put it all together and take it up another notch.
If you are speaking, challenge yourself contextually. Just because you have tools doesn't mean you need to use them. For the parts of your speech that will use visuals or interactions, consider pushing yourself to learn one more feature of the software and ask, "How could this be used to enhance my message?" If it helps, get a free trial of the software you club uses and spend extra time practicing.
If you are evaluating, begin to look for synthesis that demonstrates creative use of the webinar platform to communicate and engage. Like visual aids, use of the tools should support (if not enhance) the effectiveness of the presentation.
The bottom line
As noted, many of the speeches in the Competent Communicator manual do not have elements that directly lend themselves to learning mastery of the online "room," but with repeated exposure, practice, and a little creativity, your online Toastmasters club will grow your skill for a new world. Best of luck, and thanks for having EventBuilder be part of your journey.
Image credit: Kyle Nishioka via Flicker under Creative Commons.