When you schedule a meeting in Microsoft Outlook and add Skype for Business as the meeting location, it conveniently appends the appropriate "Join Skype Meeting" hot link to the lower part of the invitation. But if you ever need the actual link of that virtual meeting room (such as when you use EventBuilder to add a registration page), finding that link is not so obvious.
Two ways to get the link for your Skype for Business meeting
You've got two options, each of which have their advantages.
Both options begin with right-clicking on the "Join Skype Meeting" link in the invitation. Then, from the menu that opens, either
"Copy Hyperlink," or
"Edit Hyperlink" and copy/paste the "Address."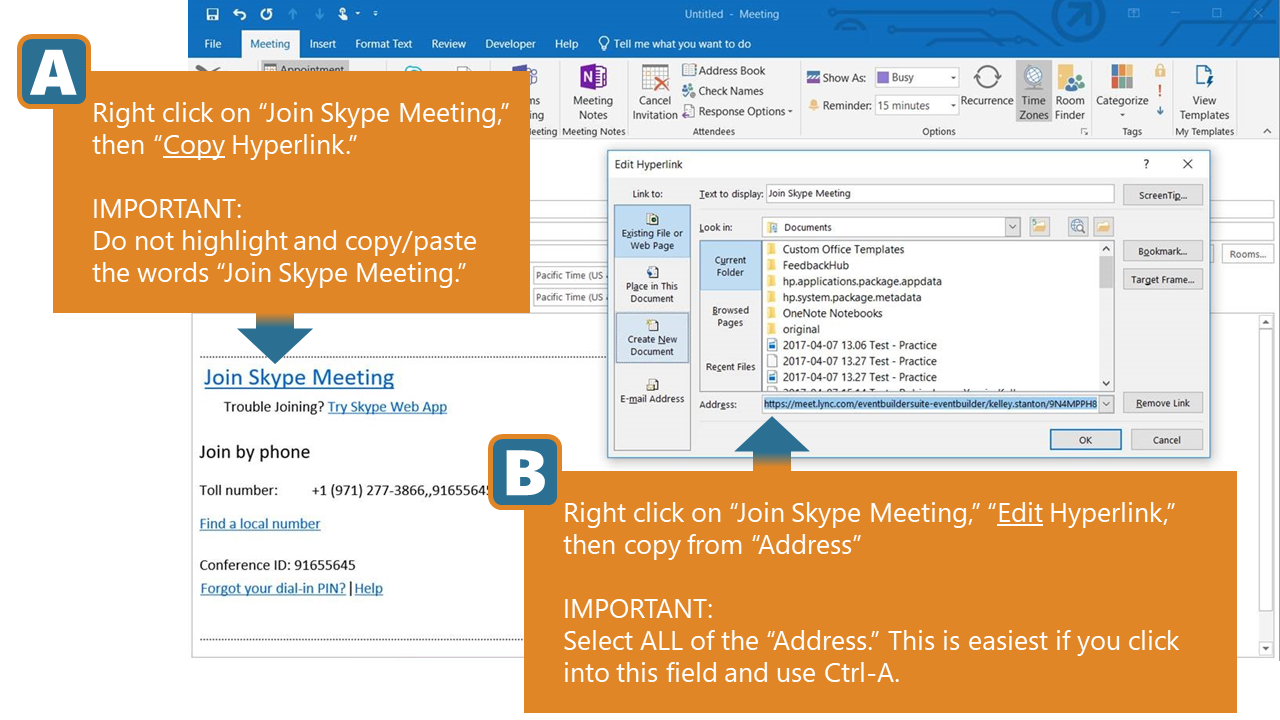 The advantage of the Option A is that it saves a few clicks.
The advantage of the Option B, though, may emerge if you are helping someone else. Why?
More times than we can count we've encountered lesser-experienced users who, when instructed to copy/paste the link, have missed the "right click" part of the instruction and instead highlighted the words "Join Skype Meeting." Copying those don't give you the link.
The bottom line
The way EventBuilder works with Skype for Business (or Teams or Skype Meeting Broadcast) is by adding all the extra webinar program management tools around the Skype room. It's not hard to find and add the link to that room as you're setting up your event, but it is a little different. The good news? Now you know!
Webinar Delivery Made Easy
Create flawless webinars and virtual events with EventBuilder and Microsoft Teams or Skype for Business. Make the technology you've already invested in complete with our complete webinar solution. Let's show you how EventBuilder can work for you!