Start with the story, then add the facts.
Facts tell, stories change hearts and minds. This doesn't mean you should abandon facts, but they're the supporting evidence. Include only the facts you need to deliver the story and relegate the rest of the complexity to reference materials.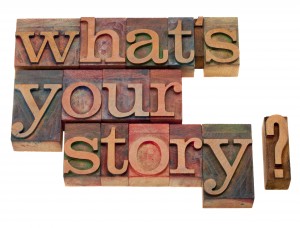 Think "content + dialogue = duration."
You can share a story in a minute or an hour. Most of the time you'll be somewhere in between. What's important is that simplicity is a function of understanding…and the brain needs to understand the big picture to make sense of all the details. It doesn't mean you can't share details - just keep them all in context. Oh, and the more you want to build in interactions, the less time you'll have for story.
Always express stories in your own natural language.
Unless you're a voiceover pro, everybody can tell if you read the story. Worse, if you've put it on a slide in words or in an order that wouldn't come out of you naturally, it'll sound stilted. Do use a proven way of constructing your story. Don't subjugate your speaking voice to your writing voice.
Start a "capture file" to build a library of ideas.
The most powerful stories to tell are those where you yourself "own" them. Don't rely on your memory. Find a place to capture all your ideas into one place so they're easy to find when you need them.
Think through multiple angles.
"So what this means to you" is different for different audiences. The story might be the same, but the thing that connects you to your audience may not be.
Give yourself permission to use the theatre of the mind.
Just because you CAN show something visual doesn't mean you have to. Bonus tip: put up a slide that says "this slide intentionally left blank." Besides having a little fun with irony, you'll send a message to listen to what is being said and, for a moment, not be looking at something.
Think more like TV or movies for your visuals.
Psychosocially, virtual presentations and classes are more like other screen-based media than they are like in-person seminars or classes. Complement your audio track with a relevant visual track which, combined, are more powerful than either of them separately. And no, this isn't contradictory with the previous point — there is more than one powerful way to use the medium.