It's been a rumor for the last few days, but this week at Ignite the announcement came: at some point in the future Skype for Business is going to get sucked up into Teams. This is probably both good and bad news for you depending on where you sit.
Given that we unabashedly have a "webinars, webcasts, and virtual classes" worldview, here are a few thoughts about how such a move strikes us.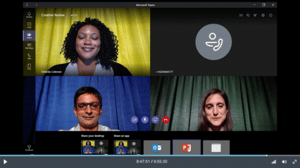 To be fair, MSFT's big play is calls, meetings, and collaboration, not webinars.
Think about it: Microsoft's revenue is north of $85 billion. They're not going to make a dent in their world domination plans by taking over some webinar company for a few hundred million in revenue. No, they're going after telcos who represent a three quarters of a trillion-dollar market. And while they don't compete on every front in the world of telecom, Skype for Business has the ability to entirely – entirely – replace the traditional telephone in an organization.
S4B-now-Teams will take a nice step forward in closing the synchronous-asynchronous collaboration gap.
When you look at the whole of collaborative behavior in an organization, there has long been a huge gap between synchronous (real time communication with audio/web/video conferencing) and asynchronous (chat, IM, et al). If Teams delivers on its promise to a) host your synchronous session right from within the Teams workspace and b) automates closed captioning and transcription, the artifact left behind as a recording-plus-searchable text will dramatically increase the value of recordings (which are heinously inefficient collaboration tools).
Using Skype for Business-now-Teams for webinars and webcasts will be a mixed bag. Or it will get worse.
Considering MSFT's pursuit of calls/meetings/collaboration, the following statement makes sense: Skype for Business falls short of being a 'real' webinar solution. You have no ability to create a registration page, you're limited to a single poll and poll type, recordings are laborious to deal with, reporting is near useless, and you have zero tools that a webinar moderator would use to manage an event (let alone a series). That's okay with us, because we love Skype for Business and Microsoft and have our own answer for all this.
So how would a Teams front end affect all of that? Here are a few possibilities about how this would affect things:
Natively, Teams' UX is a step in the wrong direction for virtual events. Teams is optimized as the front end for everything collaborative, so S4B merging into Teams only complicates a different use-case (i.e., a virtual event or few-to-many presentation model). Perhaps MSFT imagines an attendee experience that works like FaceBook live (streamed video + peer-to-peer chat)...they do own LinkedIn now, right?
Teams' ability to scale, in its current state, is worse than Skype for Business. MSFT has said that the capacity of Teams for a synchronous meeting is 80, a far cry from the 200-250 that S4B is supposed to support.
Is "Teams Meeting Broadcast" is your option for webcasts? Currently Skype Meeting Broadcast solves a scale problem for S4B users, but it doesn't offer webinar-type registration, does not support screen sharing, and has no polling natively. Maybe MSFT leaves SMB alone (it does operate independently of S4B already), or maybe they create a Teams equivalent. Either way MSFT is well behind the market in terms of webinar-type features.
What's right for Microsoft creates opportunity for other vendors (like us!).
It appears to us that Microsoft's move to consolidate Skype for Business and Teams is the right one for their strategy to pursue market leadership calls, conferencing, and collaboration. And while their underlying technology includes some of the features you need in a webinar or webcast-styled communication, it's far from complete for the few-to-many, presentation-oriented use case.
As for what that means for EventBuilder and our customers, this gap has been true for a long time (when we supported Live Meeting and Lync), is currently true with Skype for Business, and it will be true for Teams or whatever their future holds.
If anything, Microsoft's move toward Teams only increases the need for add-on solutions like our Gateway to give you choices about how to fill in the gaps.
We look forward to how it unfolds.