Roger Courville has been called "the Michael Jordan of online presentations and virtual classes."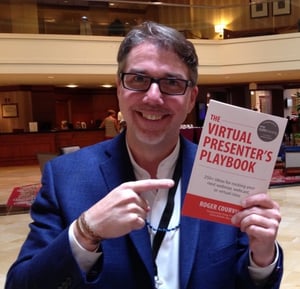 That and four bucks will get you a triple foofiato at Starbucks, right?
Most of the time Roger's just an exceedingly normal guy who speaks, trains, consults, and writes about psychosocial effectiveness when communicating via web/audio/video conferencing (e.g., webinars/web seminars, virtual presentations, webcasts, virtual classrooms) and other virtual teaming technologies.
A veteran of the conferencing industry (since the modem days of 1999), Roger has taught tens of thousands people worldwide, and he's reached tens of thousands more with writing appearances, interviews, and while sitting in airports.He was National Speakers Associations's first Certified Speaking Professional ever that A) did so with a predominantly virtual business model and B) earned more than a million dollars doing it.
What else should you know?
He's not a big fan of the word "webinar,"

but he's smart enough to use it on this site for SEO purposes.
He's actually read most of the primary academic research about PowerPoint.
He's had the good fortune of delivering a

TEDx talk…in the Cayman Islands
His future-thinking keynotes about trends, connectorship, and the impact of technology on relationship are more like pragmatic training sessions than "talk at you" keynotes.
His life calling is helping people have aha! moments, master new skills, and rock a digitally-extended life.
He's a good dad, bad guitarist, and pretty much eats anything. Loves habaneros.
Curriculum Vitae (partial, actually)
Awards
Best Book, First Place in Business, Small Business; Third Place in Writing and Publishing – North American Book Awards (2015)
International Rising Star – National Speakers Association of the United States award and designee for the Global Speakers Federation summit (2013)
Regional champion – Toastmasters (2012)
"So You Think You Can Speak" – National Speakers Association – Oregon Chapter Winner, National Finalist (Apr 2011)
"Best Conference Session" – Northwest Job Seeker's Conference (Jan 2009)
"Best Download of 2008" – TrainingZone Reader's Choice Award (Jan 2009)
"Best Conference Session" – Microsoft Airlift (Oct 2003)
Board Positions
Certifications
Writing
Author
The Virtual Presenter's Playbook

(July 2015)
The Virtual Presenter's 102 Tips for Online Meetings (Mar 2013)
Successful Webinars with GoToWebinar (Nov 2011)
The Business Expert Guide to Small Business Success (July 2010) (Contributor)
The Virtual Presenter's Handbook (July 2009)
Web Seminar Producer's Toolkit (May 2007)
Research Survey Papers
9 Trends Affecting Webinar Programs Now (Jan 2013)
4 Questions Every Sales Manager Needs to Ask about Audio Conferencing (May 2012)
Master the Five Forces of Content Marketing with Webinar Programs (April 2012)
How HR Can Move its Training Online (Oct 2011)
Boost Your Image: Master the Three Stages of Video Conferencing Success (Aug 2011)
Global Best Practices When Using Video Conferencing (July 2011)
How to Financial Advisors Can Promote and Deliver Engaging Webinars (Oct 2010)
How to Promote and Deliver Engaging Webinars (Aug 2010)
Training Trends: Web Conferencing in Australia and New Zealand (Aug 2008, Aug 2009, Aug 2010, Sept 2011, Sept 2012)
Training Trends: Web Conferencing in North America (Dec 2009)
Training Trends: Web Conferencing in Europe(Dec 2009)
Engage! How to Avoid the Seven Deadly Sins of Presenting Online (July 2009)
Online Training Attitudes and Practices (Mar 2007)
Web Seminar Metrics Survey (Jan 2005)
Whitepapers and Briefs
Cut Costs with Computer-Based Audio Conferencing (Mar 2009)
How to Move Training Online – A Global Shift in Practice (July 2008)
How to Market Online Training (July 2008)
Beyond the Basics: How to Optimize Training for Maximum Impact (July 2008)
Five Keys to Getting Started with Online Training (Mar 2008)
Reach Customers with Online Training (May 2007)
Planning, Promoting, and Producing Effective Web Seminars (May 2005)
Other Appearances
Articles, Guest Blog Posts, Quotes, Interviews, Etc.
Associations/Conferences/Higher Ed – Speaking & Classes
Alamo College – San Antonio (keynote)
American Institute of CPAs
American Marketing Association (multiple)
American Society for Training and Development (keynote + multiple)
Australian Institute of Company Directors (keynote + workshop)
Australian Institute for Training and Development (Australia)
Bellevue College
Canadian Association of Professional Speakers
Chemeketa Community College (keynote)
Chartered Institute of Marketers (Europe)
Direct Marketing Association (Europe)
LearnX (Australia, multiple)
Learning and Performance Institute (UK) (multiple)
Global Learning Summit (Singapore)
Information Technology Alliance
International Association of Administrative Professionals (multiple)
Meeting Professionals International
National Speakers Association (multiple)
National Speakers Association of Australia
Northwest eLearn Conference (keynote + multiple)
Northwest Job Seeker's Conference (multiple)
Ohio University – Schey Sales Centre Symposium
Outdoor Power Equipment Association (Australia)
Portland Community College
Product Management Consortium
Sara Varnum Institute for Instructional Excellence
Silicon Valley Marcom Resource Group
Singapore Professional Speakers Association
Society of Competitive Intelligence Professionals
Sage Insights Conference (multiple)
Training Magazine Conference
Training Zone Live (UK)
Webcast To Learn (Poland)
South Bay Organizational Development Network
Web 2.0 Conference