Unified Question/Polling Bank
Last updated: July 27,, 2020
A key feature for Attendee participation and data gathering, EventBuilder's Unified Question Bank provides Organizers a central database for Registrant and Attendee questions that can be used when creating, moderating, and reporting on their Events.
Jump to:

---
Overview
The Unified Question/Polling bank is a database containing Registration (pre-event), Polling (pre-conference and during event), and Survey (post-event) questions Organizers can add to their Events to collect data, facilitate Attendee interaction, and gather feedback from Attendees after their Event. Administrators and Organizers have different roles in creating questions:
Administrators can create Questions at the Portal-level, which are accessible to all paid Users (Administrators, Organizers). Administrators can also see all questions that Organizers have built on the Portal.

Organizers can create questions for their Events. They can also access Portal-level questions the Administrator has built.

Organizers can only access Portal-level questions; they cannot add, edit, or delete them.
Organizers do not have access to questions created by other Organizers.
Note: Questions created by Organizers can also be edited and deleted as necessary by the Administrator or the Organizer who created the question.
Question Types
When building Questions, there are several question formats available to choose from:
| | |
| --- | --- |
| Type | Purpose/Example |
| Free Form Text | Open, alphanumeric response field |
| Dropdown list for a single response | "Select Your State" |
| Radio button for single response | "yes" or "no" |
| Check box for multiple responses | "select all that apply" |
| Disclaimer Statement without checkbox | Privacy policy, etc. |
| Opt-in statement with checkbox | "I agree to the terms & conditions..." |
| Rating - Agreeability scale | "Strongly agree" to "strongly disagree" |
| Rating - Quality scale | "Very poor" to "very good" |
| Rating - Star scale | Rating of 1 to 5 stars |
Questions Page Navigation
To access your Question Bank, click on the 'Questions' option in the left navigation:

Your Questions page will appear: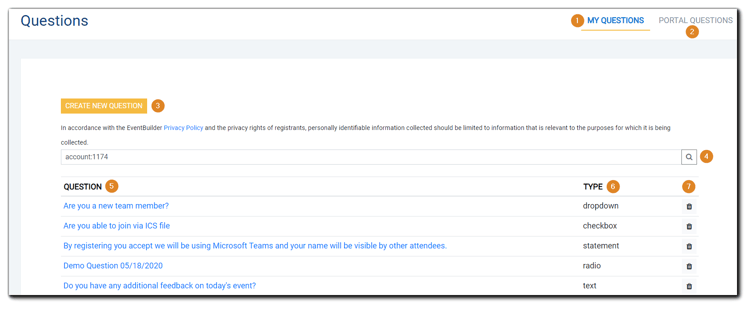 My Questions - Organizer-created questions and polls.
Portal Questions - Questions created by an Administrator; available Portal-wide. Click 'Portal Questions' to view.
Create New Question button - Click to create a new question to the Organizer Question Bank.
Search - Enter a word or partial text to search for a question from the Question Bank.
Question - List of Organizer-created questions. Click on the link to edit.
Type - Question format (see table above).
Trash icon - Delete selected question.

Note: Deleting a Question from a Question Bank will delete the question and all associated data from all Events.
Creating Questions
Navigate to the Question page. The default setting is 'My Questions'

Click on the "Create New Question" button:
The Create Question dialog will appear:

Note: Question/Statement Text and Question Type are required fields.
After entering your Question/Statement Text, select a Question Type: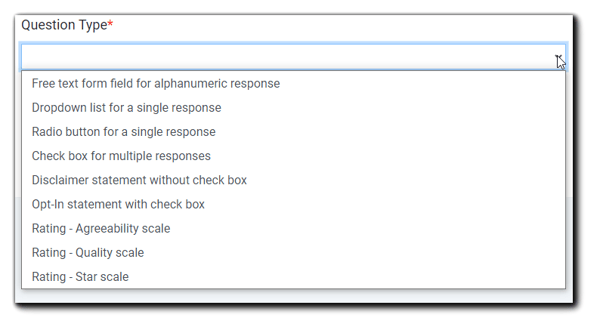 Add responses/options, then enter a Question Name to display in Reports.
When creating Dropdown, Radio Button, or Checkbox Question Types, the system will provide an 'Answers' section. Add Answers as appropriate.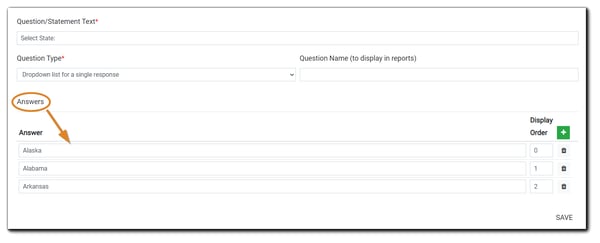 Once you've entered your Question information, click Save.
Questions added to your Question Bank are available to add to your Templates and/or Events. Learn more about how to add Registration Questions, Polling, and Post-Event Survey Questions: Building Events: Engage.
Deleting Questions
To delete questions from the Question Bank, simply click on the 'Trash' icon. Note: Deleting a question from your Question Bank will delete it and all associated data from all Events the question is attached to.
---