There are two answers here at EventBuilder: the official one from National Speakers Association and our favorite little twist...
About National Speakers Association's CSP (Certified Speaking Professional designation
The CSP™ (Certified Speaking Professional) designation is conferred by the National Speakers Association® (NSA). The CSP designation is the speaking profession's highest earned international measure of professional platform competence.

Less than 12 percent of the 5,000+ speakers worldwide, who belong to the 14 member associations of the Global Speakers Federation (GSF), currently hold this professional designation.

The CSP designation is earned by mastering the four professional competencies adopted by the NSA Board of Directors:

* Eloquence - The art of speaking and the use of powerful and persuasive presentations.
* Expertise - Knowledge, skills and experience in a specific area.
* Enterprise - The purposeful undertaking of a successful speaking business venture.
* Ethics - The standards governing the conduct of those in the speaking profession.

To earn the CSP designation, a speaker is required to:

* Perform and document hundreds of presentations
* Show income earnings of $50,000+ for a minimum of five years
* Receive excellent ratings on performance evaluations from past clients and fellow CSPs
* Take part in ongoing education
* Maintain and renew their designation every 5 years
Roger Courville's special twist
Roger Courville holds two distinctions as a CSP: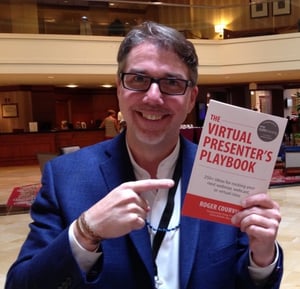 * He was the first speaker in the world to earn this designation with a predominantly virtual business model
*He was the first speaker in the world to earn a million dollars from virtual stages.


Most importantly, he's a chameleon. Web, audio, and video conferencing always touches other systems, so whether your team is using learning management systems, office productivity tools, or digital marketing suites, Roger understands how human communication and relationship get connected for audiences and enterprises.
Learn why we call him "Chief Aha! Officer" on his bio page or about his role on the team on EventBuilder's leadership page.