Services FAQs
Hosting a webinar, webcast, virtual event, virtual class (whatever you call it) is a project that has a deadline (going live!). Even as software has gotten easier to use of the last couple of decades, the greater and sometimes more challenging part of your work is managing people and promotion – herding the cats and getting the word out.
There are things that only you can focus on, but there are many you can delegate. And sooner or later, this will be true of your staff, too. EventBuilder Program and Event Managers give you an "instant-on" staff that can help you scale programs quickly and focus on the things that need more of your attention.
What you'll find here: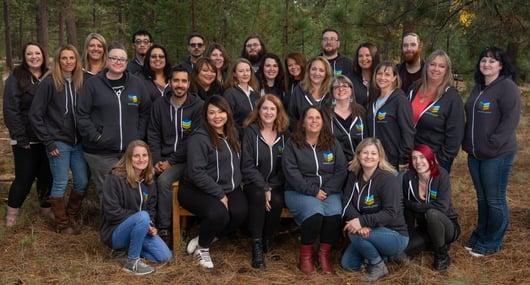 What is "program management" versus "event management?"
What is included with program management?
What do Event Managers do?
What does "technology management" mean when you do that for us?
Webinar program management FAQs:
What is "program management" versus "event management?"
Event management focuses on a single event or a set of them, but this tends to be for clients who see those events as discrete activities.
Program management looks at the whole – all events, reporting for the whole (so you can see trends, etc., that you can't see with one-off events), all the assets (recordings) that get produced, etc. And because clients looking to manage programs have usually done webinars in the past, there are questions like, "Can we migrate and manage all of our existing recordings with you?" and "Can I get regular reports formatted differently for different audiences?" that tend to emerge.
What is included with Program Management?
There are two answers: the shorter 'top level' deliverables and the deeper 'let's have a conversation' deliverables.
A few distinctives of how we approach program management include:
A single point of contact.
Understanding your goals and how they may evolve. Consultation and designing a solution isn't just up-front – it's ongoing so that evolve with you if/when your goals change.
Program continuity and consistency. When there are a lot of moving parts, it's important to manage a lot of details to ensure consistent experiences and results, both from webinar to webinar and across your organization.
Identifying opportunities and efficiencies. A program manager looks to learn something that could improve program and delivery options, attendee experiences, or other means of improving efficiency or effectiveness.
Cumulative and customized reporting. Gathering and collecting holistic communication intelligence is one thing. Help you get what you need specifically is another.
Custom deliverables are just that, and they start with open-ended conversations. Over the years we've managed programs with highly client-specific requirements such as
Receiving a list of potential presenters/topics and coordinating getting them scheduled into pre-planned event dates.
Uploading and managing a lot of recordings.
Hacking our registration system to managing an onsite (in person) event in the middle of a program.
Setting up a blended program where the client's team manages some events and EventBuilder manages some.
What do Event Managers do?
Event managers manage single individual projects with two things in mind – helping you focus on other stuff (give yourself a promotion!), and managing logistics and technology. This typically includes one or more of the following tasks:
Before your event(s):
Scheduling the event, building the registration page, and providing a registration URL to stakeholders.
Creating attendee invitations for the stakeholder to distribute.
Managing presenter invitations.
Conducting a one-hour rehearsal/presenter training session, which includes a technical check for presenters, webcast best practices consulting, and training as appropriate.
Providing registration reports before the event.
On the day of the event(s):
Conducting a pre-conference 30 minutes prior to event start to cover final details, agenda, instruction, and technical checks with the presenters.
Coordination with on-site support crew.
Coordination of Closed captioning.
Moderating the live event, which includes:

Delivering opening verbal instructions and presenter introductions
Providing technical support for presenters and attendees
Moderating questions and managing interactions (e.g., polling, handouts, etc.)
Acting as communications hub for organizers, presenters and attendees throughout the event
posting the attendee feedback survey at the end of the event
Delivering closing verbal instructions and attendee feedback survey
After the event(s):
Finalizing the event on-demand page for attendee viewing, updated descriptions and/or restricting access as needed
Provisioning customized follow up emails to registrants
Certificate generation and distribution
Providing a final attendance/registration report, Q&A logs, and attendee feedback results
Delivery of on-demand view reports
What does "technology management" mean when you do that for us?
Webinar programs are not one-size-fits-all. Over time we may help you with executing in one or more of the following ways:
Email and communications customization, implementation. This may include managing white lists, blacklists, and other security features of our system on your behalf.
Certificate generation and distribution. Certificates of attendance may be customized and managed.
Registration and listing pages. With our software, every live event and every recording can have its own registration page, and those may be combined in any manner on as many listing pages as you want. All can be branded.
Recording and asset management and hosting. Over time, programs produce a lot of recordings, handouts, etc. We host, we manage.
Audio and video assistance, editing, hosting. Technologies have standards, but implementations have your particular requirements that need to be accommodated.
Closed captioning, multiple languages. Increasingly common for both compliance and "reach" reasons, we work with the world's leading transcription firm on your behalf.
Interaction tools. Polls, questions, and surveys can gather intelligence before, during, and after an event, and these aggregate in any manner you wish.
EventBuilder combines professionalism and know-how to support your events. We're friendly, too.