Full Integration with Microsoft Teams
Microsoft Teams has taken the lead in the growing realm of business collaboration apps. Eventually, Microsoft Teams will take the place of Skype for Business. For many organizations, though, this process will take some time. The good news? EventBuilder's suite of webinar tools offers full integration with both platforms.
At EventBuilder we've embraced Microsoft Teams as our go-to collaboration platform, and are finding it to be a powerful and useful program that works seamlessly not only with our software suite but as the main communication tool for our all-virtual office.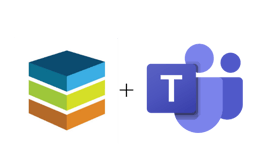 ---
FAQs about Microsoft Teams
What is Microsoft Teams?
Microsoft Teams is a communications platform for teamwork that integrates with Office 365 and some non-Microsoft products (called 'apps'). Teams enhances productivity by providing a single location for users to communicate through chat, meetings, calls, and file sharing.
Why use Microsoft Teams instead of Skype for Business?
Skype for Business and Microsoft Teams both allow for communication through chat, voice, and video. Teams, though, is designed as a collaboration hub for all of Office 365 including Outlook, Word, Excel, as well as integration with apps such as Evernote, Adobe Creative Cloud, and Asana.
How is Microsoft Teams used for webinars?
Microsoft recently added a feature called Teams Live Events that provides some standard structure used in a traditional webinar environment. Examples of Teams Live Events features that would support "webinars" are options for Q&A, designating roles such as Organizer, Producer, or Presenter, as well as the option to create and archive (on-demand) recording.
It is important to note, though, that registration and other full-feature access for external webinar attendees are not currently available with the Teams Live Events feature. (That's where we come into the picture.)
How will EventBuilder keep up-to-date with Microsoft Teams?
While the EventBuilder Suite is fully integrated with Microsoft Teams. we also continue to work on improving the functionality of EventBuilder's integration with the Teams platform.
Here are three principles you can count on that guide how we think:
We'll always be additive – we call it "+1," as in "we add something that isn't there." While Microsoft creates fantastic products, there is always room for innovation to give users what may be missing.
We'll always be people-oriented. Technology should be about helping people do what they couldn't before or do those things better. We're always listening and improving our product.
We're excited to continue to develop EventBuilder's suite of tools for Microsoft Teams. Since we use both EventBuilder and Microsoft Teams all day, every day, we're uniquely positioned to assess what would be most useful and helpful for YOU, our clients. We're always looking for ways to make it better.
How does EventBuilder use Microsoft Teams now?
We're an all-virtual company, which means we're always on Microsoft Teams. Some of our favorite Teams features include:
History in threaded conversation. Searchable, even.
Dedicated OneNote. When it's shared the way it is in Teams, collaboration happens in a whole new way.
In-app access to SharePoint files. No need to open a new window or program - just take a look in Teams.
Channels allow us to keep up with our group's activities. It's a great way to stay organized and stay in the know with our co-workers.
Blur-able backgrounds when using our webcams. Because when you work from home, the office isn't always in TV-studio shape, right?
We'll keep you in the loop on EventBuilder's latest and greatest features, as well as sharing tips, tricks, ideas, and more on our blog.
Subscribe now!