There's a time and a place for lecture or broadcast for communicating information, but we also know that they can be lower-efficacy means of adult learning. So what do you do when you are very much concerned for the learning outcomes of your audience?
We'd argue that, even if you're not in a place to hold a hardcore, small class size, hands-on virtual class that you can still move in that direction. Here are five ways to do so.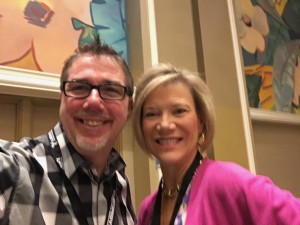 (BTW, we've an upcoming 'webinar' with Shelley Row – pictured with me to the right at a recent conference we were both at -- where we'll be doing these very things – we'd invite you to see them in action).
Hand out a worksheet
Notice that this goes beyond "give a handout." Not that handouts are wrong, and certainly most webinars would benefit from adding this form of engagement. But a worksheet implies just that…something that participants will use for work (and presumably useful work at that).
Bonus idea: Consider (also) giving it out in an editable form. Give the pdf fields to type in, or also give out a Word version.
Pause for reflection
One of the principles of adult learning is the need for reflection. More than children, adults bring pre-existing knowledge or presuppositions to the learning experience against which they will evaluate and integrate what you're teaching. Time to reflect and apply in-session isn't usually done in webinars, but it can be.
Be the voice of the audience
The primary thing that webinar and webcast softwares enable is audience-to-presenter interaction, and often this means their comments are seen only by those "on stage." You can still bring them into the 'conversation,' however, by not just using "questions" for Q&A. Sharing some of their comments back to the broader group gives them a voice.
Enable peer-to-peer interaction
The same knowledge that adults bring to the table is part of what fuels interaction in a regular class, but talk-AT-you webinars totally put the kibosh on this. How you accomplish this may vary significantly depending on which webinar software you're using, but it doesn't mean that it's not possible (again, join us to see how we get creative with GoToWebinar).
Use audio mute/un-mute
Not every software makes it easy (or even possible) to do this, and often webinar producers act like their software doesn't do it (for shame!). But unlike many other forms of at-a-distance communication, webinars include the power of real human voices…and including the real voice of someone in your audience by bringing them 'on stage' with you is a highly engaging tactic for increasing the interestingness factor of your session.
Bonus tip: If your audience is in listen-only mode for whatever reason, there are still many ways to improve engagement. Read this.
Equip additional learning
Webinars and webcasts don't have to be a one-time show-up-and-throw-up experience. To be sure, not every participant will take responsibility for themselves to continue their own growth, but giving them the guidance and/or resources to continue their education is a critical part of feeding and leading.
Because this extends beyond the webinar itself, there are a host of ways you could do this, and we'll do this in more than one way in this session with Shelley.
The bottom line
It's sad that many in the world of learning and development give webinars a bad rap as learning platforms (that's like blaming Word for a poorly-written report). To be fair, though, many webinars are rather lousy learning experiences.
It doesn't have to be that way.
A larger-scale class isn't going to have the same dynamic as a small one online or offline, but that doesn't mean we can't learn and apply some lessons from virtual classes to webinars and webcasts. The bar is low, the opportunity is high, and even one of the above ideas might be just the thing that helps you take your webinars from good to great.