We're so happy to announce that with our latest update, Organizers can now use EventBuilder's powerful Registration and Reporting tools to create In-Person Events. What does this mean? We're ready to support your Event programming, whether it's virtual or face-to-face!
What's New:
We've added an additional Event Type for Essential, Pro, and Suite-level subscribers: In-Person Events. With this new functionality, Organizers can use EventBuilder to create Events for in-person seminars, courses, conferences, meetings, and off-sites. What makes this new feature so great? Take a look:
Familiar interface: You know how to use EventBuilder for your webinars and virtual events. In-Person Event management works the same way. No need to switch to a different event registration tool.
Branding, Marketing, and Reporting continuity: Manage your events with one program, keeping your branding, marketing, and reporting in one place.
Registration Check-in: Grant your Presenters, Moderators, and/or Organizers access to your Registration lists for easy check-in and attendance tracking.
The Power of Templates: Just like your virtual events, create Templates for your In-Person Events and streamline the Event creation process.
Multi-day Events: The new In-Person Events allows Organizers to create multi-day events, with the same Registration and Reporting tools available for one-day or virtual events.
Dynamic: EventBuilder will walk you through each step of the event creation process, dynamically adjusting for your event type by adding location and address options.
How-To:
Let's walk you through using EventBuilder's newest tool: In-Person Events:
First, navigate to your Events from your dashboard: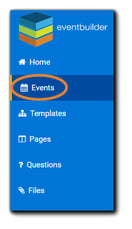 From your Events list, click 'Create New Event'

This will take you to your Event Detail's Schedule section:

Here's where we get to this awesome new feature. You'll see there is an additional option for Event Type:

Once you select 'Live In-Person Event,' the options for scheduling and providing details for your event will appear below the 'Select Registration Layout' section:

To add additional days to your In-Person Event, slick on the green '+'


Next, add Presenters, Moderators, and/or additional Organizers. As you know, adding them allows you to display them on your Registration page. Additionally, adding Presenters/Moderators/Organizers to your event will grant them access to the Registrant area in EventBuilder, where they can assist Attendees with check-ins, on-the-fly changes, and attendance tracking.

Communication:
We're saving you time and effort on your communcation emails by making them dynamic. What that means is when you select 'In-Person Event' and add venue information, your communication emails will automatically include your venue details. Simply edit your Event emails as usual, and be assured that the venue information is included: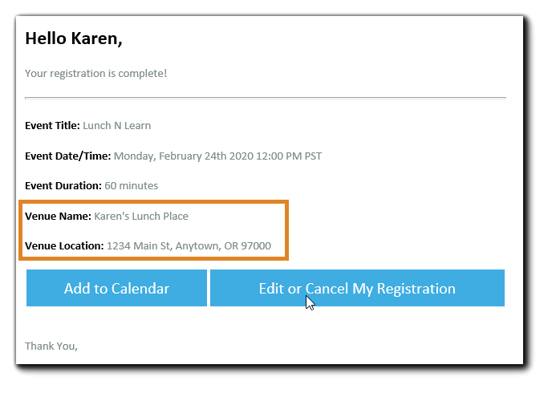 You may notice the option, "Edit or Cancel My Registration.' When your Registrant selects this option, the following window will open: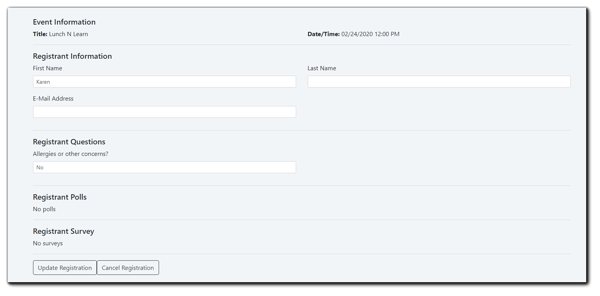 We've added this functionality to
all
Event communication emails, empowering your Registrants to update their information or to cancel, helping you stay on top of organizing and executing your Event.
Always Improving
Our crack Development team is always bringing product enhancement and sought-after features to our software, and the release of In-Person Events isn't the only exciting feature we've added. In the coming weeks, we'll be sharing more about what we're doing to improve Portal security, reporting capabilities, and more!
Virtual AND Real-Life Results
Whether we're helping you partner with Microsoft Teams or Skype for Business, or helping you organize your In-Person Events, EventBuilder's suite of services and software creates a complete webinar and events solution,
We're ready to help you stand out.
Let's show you what EventBuilder can do
!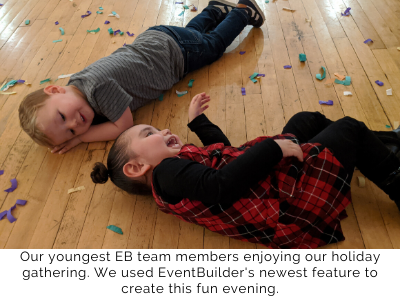 Images: Natasha Hauskins of Capturing Kismet Photography. Thank you, Natasha!