Microsoft has added a Teams Webinar feature, which was rolled out to users recently. We've been excited about this debut since we first heard it announced at Microsoft Ignite 2019. Take a peek at this cool new Teams capability!
Teams Webinar
Microsoft officially added webinar functionality to Teams in late spring (2021), allowing organizers to create a webinar directly from their Teams calendar.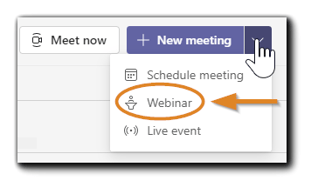 Features include:
Scheduling directly in the Teams calendar
Registration questions, including custom questions (text or choice-style)
Upload a custom image/banner on the registration page
Registration confirmation email, including an Add to Calendar link
Hosting for up to 1,000 interactive attendees and up to 10,000 view-only
Event report with attendee name and connect/disconnect time
Unfortunately, adding registration to Teams Live Event is not offered at the moment.
Teams Webinar Suggested Uses
Teams Webinar is really useful and efficient when hosting public webinars that you want to promote to the general public on your social media platforms or email nurture campaigns.
The webinar feature is also quite useful when you would like to gather additional information about your attendees beyond first name, last name, and email. Questions available to add to Teams Webinar registration include job title, industry, region, and more.
Why Would I Need EventBuilder?
EventBuilder has always been proud to help Microsoft and Microsoft customers enhance and augment their products. We create our software to extend the functionality of Microsoft Teams and provide custom registration, security, reporting and more for webinar programs and complex virtual events such as conferences, summits, and broadcasts.
By integrating with Teams, EventBuilder can meet the need for advanced virtual event registration and security, while allowing organizers and presenters to work in the familiar Teams environment.
EventBuilder Enhancements
EventBuilder can boost your webinar programs and complex virtual events with essential features, including:
Registration - Advanced, customizable registration for webinar programs and complex events, such as conferences, summits, and broadcasts
Security - Event security options, including manual approval, Allowlist/Denylist, email confirmation, and multi-factor authentication
Reports - Analytics and reporting across multiple events, as well as recurring report delivery; set the schedule and reports are delivered to you
Listing pages - allowing for registrants to search for and register for multiple events at once
Automated attendee emails - Customizable attendee emails, including reminders, missed event notification, and post-event follow up for survey completion
Simulated Live Events - Present recorded content with live moderation
Templates - Great for webinar programs! Save time and effort by building a template for your repeat event offerings
Cloud Recordings - Cloud-hosted event recordings that are automatically posted to event pages
Certificate Generator - Add completion certificates for training and education events
Source Tracking - Keep tabs on which of your promotion channels are driving the most registrations
Teams Live Event - Add options from EventBuilder for Teams Live Event, including registration, security, reporting, hosted cloud recording, attendee emails and more
Microsoft Teams + EventBuilder = Awesome Events
We continually adjust and change our products around Microsoft Teams functionality. By adding features to Teams not currently provided to users, we are able to make the Teams events and webcasts fit perfectly into your programs, conferences, summits, and more. Need assistance with webinar program and event design, implementation, and maintenance? We can help! Contact us and book a consultation today!