Source Tracking 101: Effective Event Marketing Tools
A simple but powerful tool in EventBuilder's software, the source tracking helps Organizers collect and analyze data regarding their virtual event marketing initiatives. But how does it work, exactly? What are the benefits of using it? Let's find out:
What is Source Tracking?
Put simply, EventBuilder's Source Tracking tool gives Organizers the ability to add a unique identifier to their event's Registration Page URL and track which marketing channels are most effective. For example:
Suzie Organizer creates an event and wants to promote it on her company's LinkedIn, an email distribution list, and a postcard QR code. How can she discover which of these the registrants responded to most often? Enter: Source Tracking.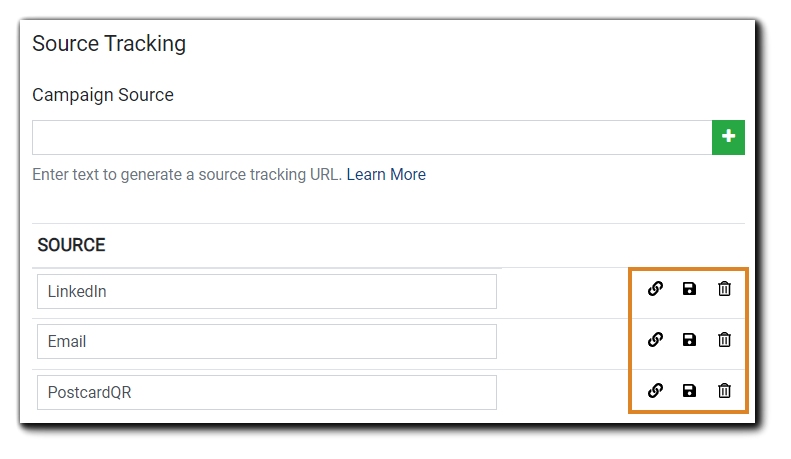 With each source, a unique identifier is added to the event's registration URL, e.g., (noted in red:)
https://yourcompanyname.eventbuilder.com/event/43136?source=LinkedIn
https://yourcompanyname.eventbuilder.com/event/43136?source=Email
https://yourcompanyname.eventbuilder.com/event/43136?source=PostcardQR
The icons shown allow Organizers to copy the link to their clipboard (), save after making updates/changes to the chosen source (), or delete ().
Upon saving, a confirmation window will appear: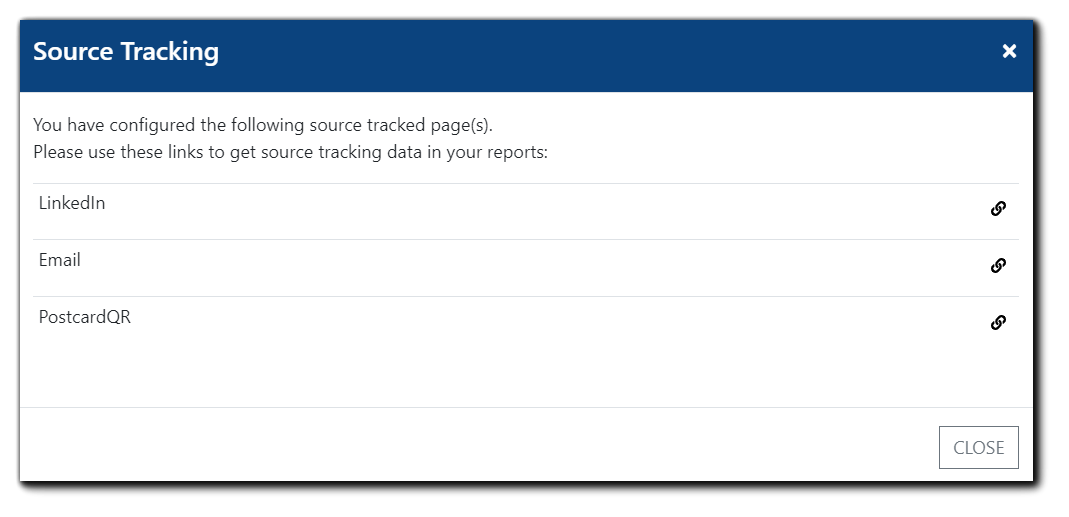 Click on the link icon () to copy the source URL, and paste it into the appropriate event invitations.
Adding to Event Invitations
To help you keep everything straight, we recommend segmenting the invitations by channel. Using the demonstration links listed above, the event invitations would be sent as follows:
Create the invitation post for LinkedIn, paste the unique URL, and publish on LinkedIn.
Copy the email URL, add it to the invitation, and

send to your email list

.
Then, copy the link you plan on using to create the QR code, paste in your chosen QR creator, and post or print.
Reporting
From a technical standpoint, EventBuilder's Source Tracking feature assists Organizers with building the tracking URLs. Which links the registrant clicked will display under the column labeled "registrant.source" in the Registrant Summary report.

To create a visual representation of the data, use EventBuilder's Power BI for Microsoft connector and display the information in a chart or graph to better visualize the effectiveness of each.
Source Tracking For Listing Pages, Too!
Our Source Tracking tool is also available for Listing Pages. The functionality is the same as for Registration Pages, with the additional convenience of allowing your registrants to sign up for multiple events via a single URL. Simply click on the link icons ( and proceed as you would for Registration Pages as described above, and add the tracking URL to your event invitations. The Listing Page source name can be found in the "registrant.source" column on the Registrant Summary report.
Cool Tools
EventBuilder software's seamless integration with Microsoft Teams and Teams Live Event brings you advanced, customizable registration, enterprise-grade security options, comprehensive reporting, and more. Take a look at what we have to offer your webinar programming and how our professional virtual event management services can help you with the logistics, technical support, and administration of your virtual events and conferences. Schedule a consultation today!