With our latest update, we've added something exciting: hold music.

I know, hold music sounds very not exciting. But stay with me...
Update! Hear previews of the tunes: Click Here
For our Suite-level subscriber's streaming events, Organizers have the option select music to be streamed to their Attendees before their Event. We're now including two original songs for Organizers to choose from by Grammy-nominated artist Jenny Conlee-Drizos and Steve Drizos: Indie Chill, and Bossa Nova.

Indie & Bossa: Notes from Steve and Jenny:
Indie Chill
"On this piece we used: Nord Stage digital piano, Kontakt strings, Mellotron vibraphone, electric guitar, Logic drum loops, and acoustic percussion.
For this piece we wanted to create a relaxing flowing bed of sound that changed texture every 20 seconds so people could relax and listen but not get bored."
Indie Chill on SoundCloud:
Bossa
"On this piece we used: Ukulele, Accordion, Nord Stage digital piano, bongos, drum set, acoustic percussion, Mellotron vibraphone and Kontakt strings.
We wanted to make a mellow, jazzy piece that had a lot of movement. Jenny started with the Ukulele part, which was something she had already written years ago, and decided to add the accordion melody which then informed a Latin style. Steve is a master at percussion so it was a great opportunity for him to add a lot of flair. The feel ended up being similar to the Brazilian jazz style called Bossa Nova."
Bossa on SoundCloud:
Jenny Conlee-Drizos

Jenny Conlee-Drizos is a keyboardist and accordionist from Portland, Oregon. She is a member of the indie rock band The Decemberists as well as other musical groups including The Minus 5, Casey Neill and the Norway Rats, Ashleigh Flynn and the Riveters, and her own group The Jenny Conlee Quartet. Jenny is a classically trained pianist with a love for music of all genres. Jenny and her husband Steve Drizos composed and recorded the music for a documentary called "Voyagers without Trace," a short film called "The Kid," along with music for podcasts and commercials.
Steve Drizos
Steve Drizos is a drummer, percussionist and guitarist as well as a recording engineer. His touring bands have included Dexter Grove and Jerry Joseph and the Jackmormons. In the last eight years Steve has been focusing on composing and recording in his studio called The Panther. He has composed music for guitar and for full bands. He has collaborated with his wife Jenny Conlee-Drizos on soundtracks for a full length film, a short film, and various podcast and advertising music.
How-to:
Navigate to the Engage section on the streaming Event you would like to add hold music to:

Scroll to the bottom of the page. Under "Choose Your Event Options" you'll see the newly-designed area for Hold Music selection. Click on the blue "Choose Music" dropdown menu: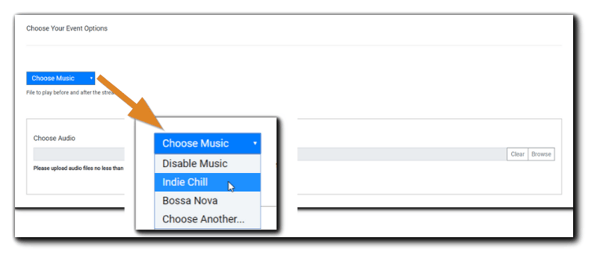 Once selected, the chosen piece will play while your Attendees wait for the streamed content to begin.
Really Awesome Hold Music and More
EventBuilder is always adding great options to make your webinars and virtual events an awesome experience for you and your Attendees. Contact us and find out what EventBuilder can do for you!