Hosting a panel discussion using a video or web conferencing technology (e.g., Skype for Business, GoToWebinar) isn't hard, but it is a little different. You know how we aren't fans of the word webinar, and this is a good example of a communication use case where the most common paradigm of what a webinar is just isn't useful.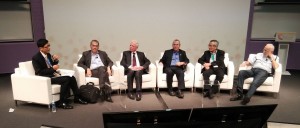 Here are a few ideas and things we've learned from the zillion virtual events we've hosted (in no particular order):
(Interaction) Try a "user generated content" format.
I once went to a session at an in-person conference where right up front the moderator confessed that there was more to cover on the subject than they'd ever get to in the time allotted. She put up a slide with a bunch of more specific topics and, by show of hands, the audience chose four to focus on. Brilliant! And how much easier to do in a virtual session where you can get real, quantitative polling results rather than guestimating by show of hands.
(PowerPoint) Use a slide for the question being addressed by the panel.
The power of appealing to more than one sense in an audio-visual medium that has more than just talking heads on webcams is you can use the additional visual real estate to improve engagement. If you plan in advance what questions the panel will address, help out that audience member who doesn't hear the question.
(PowerPoint) Reiterate instructions for how Q&A will be handled – visually.
Don't rely on the opening, "Hello and welcome and blah blah blah" script. First, a third of your audience who joins a little late will miss it. Second, they're probably not paying attention anyway (kinda like that "what to do in case of emergency" speech on an airplane – mostly useless). Give yourself bonus points if you take a screenshot of the audience view of your conferencing platform and show participants where and what to do.
(PowerPoint) Put panelist pics and bios on a slide or series of slides and cycle through them.
I really hope you've got panelists on camera (audiences like seeing real people). Even if you don't, you both help out the latecomers and reiterate the cred of your panelists when the audience can see their bios again (which they didn't really pay attention to in the opening blah blah – see previous point). This is also a good exercise for keeping bios concise so you're not using 6 point font on a slide. (Need help with bios? Read this with fair warning.).
(Interaction) Open up the "backchannel."
A backchannel is where you let audience members freely communicate amongst themselves. This peer-to-peer communication is happening and is a natural part of in-person conferences. And it's happening anyway in virtual ones. If you can't or don't want to use your conferencing platform and aren't a fan of Twitter, check out TodaysMeet (we have no affiliation – it's just a cool tool). Bonus? Go back and look at the chatter (a benefit of digital) and learn something, use it to create follow up blog content, or…
(Preparation) Work on flow before technology.
Whether you rehearse or put expectations in a document, it's useful to prepare panelists in advance (duh!). More important than technology, however, is how the discussion will flow from the opening remarks to transitions and questions. I can't stress this enough – something feeling clunky is almost always a function of people and logistics, almost never a problem with technology.
Here's one of many possible examples: In a virtual event, your panel moderator and panelists aren't going to have the same visual cues they do in person (such as the panel moderator looking at the panelist who s/he is directing a question to). So how does a panelist know that a question is for them? This might be adjusting a personal skill (the panel moderator uses first names more liberally), using the technology (assigning it in a Questions panel), or both. Not hard, but certainly different.
(Preparation) Plan as if you won't get a "sound check" or rehearsal.
Of course you want a meeting in advance, but don't throw yourself under the bus if it doesn't happen. Often panelists treat these things more like conference calls than presentations. No worries. It's a good thing to do, though, to have a way of communicating what you need them to know even if they won't hop on a call with you in advance. A written cheat sheet is my preferred modus operandi.
(Preparation) Create a check list of the technology-influenced elements of your panel discussion.
Check lists get into the weeds. There's no way to cover all possibilities in a blog post (and people who write "7 easy steps to a webinar" are usually summarizing into something waaaay too simplistic to be useful).
Here's the key: map typical behaviors to the tools that you have. For example, instead of thinking "make sure their camera works," think "help them look good on camera." In the latter example, you of course need to make sure their camera works, but you also will think about lighting, background, how they will see themselves and others, and/or how the technology shows them to the audience (Do all cameras show at once or does the audience view switch between cameras? What you instruct a panelist to do logistically might change based on how your tech works). And a brief moment of self-promotion, all this could be exactly why you hire one of the wizards at EventBuilder. :)
(Introductions) Help the audience connect to a panelist's voice.
When the panel moderator introduces a panelist (reads their bio or whatever), have that panelist chime in with a response right then and there. Don't wait until you've introduced them all.
This is a little different than what happens in person, but here's why: This was more important before everyone on stage could be on individual webcams, but it's still important because increasingly participants are joining webinars / webcasts on mobile devices where they may not see all cameras or be simply listening and not watching at all.
(Interaction) Use planted ("seed") questions as a last resort.
Hear me correctly here: I'm actually a big fan of planted questions. I think it's something you can do with integrity when your focused on questions the elicit helpful, audience-centric questions rather than something self-serving. If you plan to use them as a last resort, though, you'll find you work a little harder to learn how to actually engage people so they participate. Crazy idea, right?
The bottom line
This list above could be much longer (so if you've got a tidbit, by all means, share it in comments below!). If it's useful, start by thinking through every detail of what you'd do offline first, then adapt it to the technology you have (or communicate it to the event manager who's managing your event). If at all possible, though, start with the attitude that you're going make the technology bend to what you want to do rather than the other way around.
Image credit: By Sinednov (Own work) [CC BY-SA 4.0 (http://creativecommons.org/licenses/by-sa/4.0)], via Wikimedia Commons