As larger events have migrated online, we've noticed an increase in the use of the Teams Live Events feature of Microsoft Teams. We recently gave you a rundown of Teams Live Events quick facts, and an overview of how to decide whether Microsoft Teams, Teams Live Events, or EventBuilder Streaming is the best fit for your event, but we didn't cover an important consideration with Teams Live Events: What's the attendee experience like?
In this post, we'll cover:
Pre-event Prep
If your attendees are viewing your event on the web (not in Teams), they will need to make sure their browser allows third-party cookies and supports Microsoft Teams and Microsoft Azure Media Player. According to Microsoft, they will also need to use a media-source extension-enabled browser such as Edge, Firefox, or Chrome.
Attendee Sign-in
As we mentioned in our previous post, there are three options for creating a Teams Live Event: people and groups, (you specify, sign-in required), your organization (sign-in required), and public (no sign-in required).
The following window will appear after they click the join link. There are three options for accessing the live event: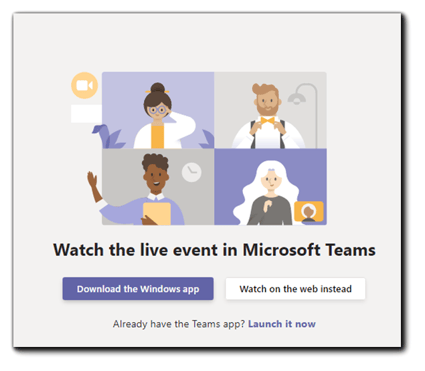 Download the Windows app - For attendees who want to use the Teams app in order to view the event. (Sign-in required after app download.)

Watch on the web instead - For attendees who want to watch the event on their preferred browser and for public-event attendees who wish to join without signing in.

Launch it now - For attendees who already have the Teams app and are signed in with their organization-provided Microsoft 365 account. Upon selection, Teams will open to the live event.
For attendees who select "Watch on the web instead," the following window will appear upon selecting the web option: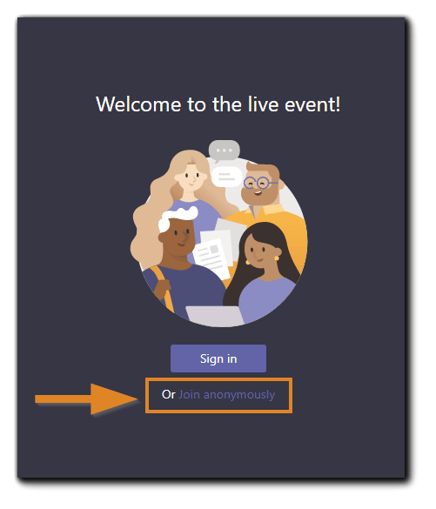 To join the event anonymously, click the "Join anonymously" link. The attendee will be delivered to the event via their preferred browser.
Event Controls:
Live streaming platforms don't typically give you much in the way of viewing controls. With Teams Live Events, your attendees have some options for customizing their experience.
Attendee controls are located at the bottom of the viewing screen:

The left-side controls include:

Pause - Attendees can pause the live stream
Volume Control - Mute is available on this control as well. Click on the speaker icon.
Live - After pausing, clicking "Live" will jump the attendee forward to catch up to the live stream.
Timer - Indicator of where in the presentation the attendee's stream is versus the live event.
Right-side controls include: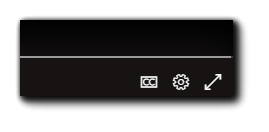 Closed Captioning -Attendees can turn on auto-generated closed captioning. The setting must be enabled at the time of event creation in order to have captions available to attendees during the event.


Full Screen -Opens event viewer in full screen.

Settings -The gear icon opens several options for attendees:

Playback Speed - Slow down to catch info, or speed up to grab information you may have missed and catch up to the live stream..

Captions/Subtitles -Turn on/off auto-generated captions.

Captions/Subtitles settings -Attendees can customize their caption experience by adjusting the text size, dark/light mode, etc.

Quality - Attendees can adjust the video quality to compensate for playback issues and resource demand.
Engagement
According to Microsoft, the stream has a delay, which can affect how presenters are able to engage. For example, if a presenter asks a question, they may notice a time lag before attendees respond with their engagement options: the raised hand response and the Q&A panel.

Attendees can ask questions and choose between giving their name or posting anonymously. The question will be seen by other attendees once approved by the event moderator. Because of the delay coupled with the approval process, it can take some time for your attendee to see their question answered. We recommend an event rehearsal to get a sense of the timing and responses to presenter questions for their pacing and delivery.
Potential Pitfalls
Sign-in: The Endless loop
One of the most common issues we see with public-event attendees joining the Teams Live Event: the sign-in loop. Because the welcome screen has a "Sign In" button displayed prominently, but the "Join Anonymously" link is much smaller and harder to see, we've encountered a few situations when an attendee trying to join the event selects "Sign In" and they are directed to download the Teams app and then sign in with a Microsoft 365 account. If your attendee doesn't have the Teams app and would prefer not to download it, this is where they may get stuck.
To circumvent this, instruct your attendees joining public-facing events without a sign-in to select "Join Anonymously." This will save them time and frustration, and make you look like a total pro.
Attendees Gone Wild
If an attendee clicks on the streaming window and pauses the stream, they may not realize they've done this, so we advise to announce occasionally to use the "Live" button if their feed seems to have frozen.
Where's My Sound?
Teams Live Events uses system audio (Windows Settings-System-Sound.) We think it's a good idea to encourage attendees to set this up prior to the start of the event.
Utilize event invite, registration, and reminder emails to instruct your attendees how to access your event and customize their experience.

A rehearsal event can help you gauge timing, and how the delay might affect your presenter's delivery and engagement. Training presenters and moderators on Teams Live Events best practices will help ensure a smooth delivery.

During the live event, have your Producer/Moderator scripts include instructions for some of the features attendees can use and to consider repeating them occasionally to remind attendees how they can have the best experience.
Data Gathering
While there are some reporting options with Teams Live Events, the data gathered is limited for attendees who sign in, however, with a public-facing event without a sign-in required, attendee data is non-existent. Teams Live Events feature a Q&A report and attendance report. However, if the attendee joins anonymously, the data gathered won't include relevant information about them.
Using EventBuilder's Registration tools to invite participants to your event will help you gather the attendee information you need about individual participants and utilize our reports. Our Power BI connectors (optional) can assist with data visualization and help you understand and analyze trends.
Everything You Need
Producing virtual events means knowing the ins and outs of how your user experiences the delivery technology. EventBuilder's software and services will help you create a complete suite of event tools for organizing, producing, and following up with attendees. Contact us today for a consultation!