What is the current attendee experience for a live event in Microsoft Teams?

After we discovered a couple things by accident, we thought it useful to pass along analysis and recommendations to equip you to better produce and support webinars using this new feature..

As we get started, note two things:
If you're not familiar with this feature, learn about the background and context of the "live events" (AKA "broadcast meetings") feature of Microsoft Teams here.
This post does not cover the features EventBuilder adds to Microsoft Teams (and Skype for Business) or how we might handle it differently -- it's just about Teams.
Four key things are worth your awareness, and each closes with a "take action' recommendation:
1. If you've created a public event, attendees may have to work (a little) to join anonymously.
Like Skype Meeting Broadcast, when Producers create a Teams live event there are three options for permissions. In Microsoft's exact language, those are
"People and groups -- Allow only the specified people and groups can watch the live event.
Org-wide -- Everyone in your org can watch the live event. (Sign-in required)
Public --The live event will be open to anyone. Use when most of the attendees are outside your org. (No sign-in required)"
Technically "no sign-in required" is true, but you should know that for an invitee to join a public event anonymously, they will have a multi-step experience.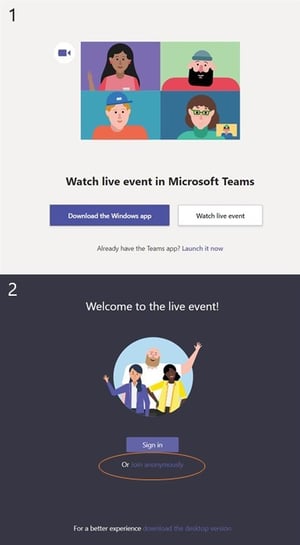 First, they will be presented with an option to download the Teams app or "Watch live event."
If they select "Watch live event," then they are presented with a (more obvious) button to sign in or (a slightly less obvious) link to join anonymously.
But wait, they're not in yet.
In our testing we found that IF we selected the option to join anonymously, Microsoft recognized that we have accounts (we're an all-virtual company – we literally live in Teams!) and asked us to log in or launch the app (which would presumably require being logged in – we didn't test whether or not you could ). To actually join anonymously required firing up an incognito/private browser window.
Take action
Producing virtual events means being intimately aware of the user experience, and sometimes it's worth providing instructions to guide their experience. This likely is not one of those cases. However, if you're supporting your own events, you're the one on the hot seat for someone who can't figure it out, so it's worth your awareness.
2. Attendees can choose their playback speed and even go back in time (rewind).
Teams live events are meant to replace Skype Meeting Broadcast (though Skype for Business and Skype Meeting Broadcast won't be going away any time soon). As such, the attendee experience is a stream that is a hybrid experience -- it's *technically* live and watching on-demand video content. Live streaming platforms don't usually give you the ability to pause a stream like watching a YouTube video does, but Microsoft Teams does.
If your webinar participants have experience with live webinars (probably a given), and since most webinar/webcast platforms operate differently, it is probable that their expectations of what "real time" is has been shaped accordingly, albeit unconsciously. They may not stop to think that if they paused or rewound the event that how they interact might be affected. And this effect may be compounded by the fact that streaming often incurs latency (sometimes significantly).
Take action
None of this is a bad thing, it's just different. As you're preparing to present and interact (or preparing your presenters), take into consideration A) how those interactions are executed and B) your expectations for participation (e.g., how many people respond in a time given that an attendee could pause their view for an hour or something like that).
3. Viewers of a Microsoft Teams live event can accidentally pause the stream.
We do a lot of testing here at EventBuilder (you'd expect a virtual event services company to be experts in helping organizations have successful virtual events – we need to be ahead of the curve, right?).
In our own tests, we discovered (by accident) that if an attendee clicks on the streaming window pauses the stream. We'd hope this will change or be more obvious in the future, but today it is what it is.
Too, accidentally pausing the screen may happen when the attendee clicks on the Teams viewer to re-engage the app. Remember, computers generally have one active application at a time, and usually you have to click on an app or document to re-engage before you can begin working with it. We had at least one user who, even after discovering that you can pause/unpause the stream for yourself that it only took one click on Teams (coming back to it from another app) to pause the view again.
Take action
As a producer or presenter, be aware that if you see someone say "are you doing something, because I'm not seeing what you're talking about," they may have accidentally paused their view and instruct them to click on the streaming window again.
4. In Q&A, attendees choose whether to submit their question anonymously or not.
To submit a question anonymously, the attendee must select a check (tick!) box. This is clear and obvious (in the lower right corner.
Take action
At present there is no option to force users one way or the other. If you have a preference, we recommend
Update your Producer/Moderator script to state your preferences
Consider repeating those instructions at key intervals or junctures (unless your audiences pay attention to everything you say the first time <snicker>)
Train Presenters to instruct participants as they are presenting as one of their engagement tactics.
The bottom line
There are many things that are awesome about Microsoft Teams. It works wonderfully across multiple devices and operating systems. When it comes to the live events/broadcast meetings feature that is in preview, it's useful to be aware some foundational things in addition to the attendee user experience items above.
That said, Microsoft is developing it quickly and this post is only a snapshot in time, so it's worth running your own tests accordingly (or working with someone else who handles production and support for you).
Stay tuned – as we have new insights, you'll find them here!