Building Events: Engage
Last updated: September 14, 2020
Successful Events provide opportunities for Presenters to engage audiences with questions, polls, surveys, and more. Adding these elements to Events also allows Organizers to collect data, gaining insights into their audiences for reporting. Here, Organizers have several options to create a meaningful, interactive experience for Presenters and Attendees.

A Note About Templates
When building an Event based on a Template, Files and Questions added at the Template level cannot be removed from Events built on the selected Template. Organizers can add Files and Questions to suit their individual Event. Explanatory text is included in the software:
---
Step-by-Step:
Files
Organizers may add files to their Events to share information such as Privacy Policies, course outlines, presentation slides, and other Event information they would like to share with Invitees and/or Registrants.
To add a File to your Event, click on the green '+' sign:

The 'Select File' window will appear. If the File you wish to add to your Event already exists on your Portal, locate the File in the list and click 'Select.' The File will now be attached to your Event.

To upload a new File to your Event, click on the 'Upload File(s)' button. Browse to your File's location and select the File you wish to add. The newly uploaded File will appear on your list. Click 'Select' to add the File to your Event.



Once the File has been added, choose when Registrants will be able to access the selected File. Options are 'After Registration' and 'Always.'
If 'After Registration' is selected, Registrants will have access to the file once they have signed up for the Event. If 'Always' is selected, the chosen file will be accessible to anyone with the Registration Page URL.
To delete the selected file, click on the red trash icon.

Unified Question Bank
A powerful feature unique to EventBuilder, the Unified Question Bank is a database repository for questions, polls, surveys, and other audience engagement options that Organizers can use and reuse before, during, and after an Event. By streamlining the set up of audience engagement options, Organizers save time and maintain consistent messaging and data collection across Events.
A key benefit to the Unified Question Bank is its flexibility. Supported types of questions include:
Text (alphanumeric)
Dropdown
Radio button
Checkbox
Statement
Acknowledge
Rating (Agreeability, Quality, Star)
Calculated Lookup Value
Organizers can add their own questions, polls, and surveys to their Templates and/or Events, or choose from the options already available in Unified Question Bank. Learn more.
Registration Questions, Polls, and Surveys
Organizers can select from the Unified Question Bank for each type of Engagement tool.
Registration Questions
Note: The 'Require Unique Email Per Registration' option helps eliminate duplicate registrations, ensuring more accurate reporting.
To add Registration questions to your Event, click on the green'+' highlighted below:
First Name, Last Name, and Email Address are required and listed on all Events by default.
To add a Question already in the Unified Question Bank, click 'Select.'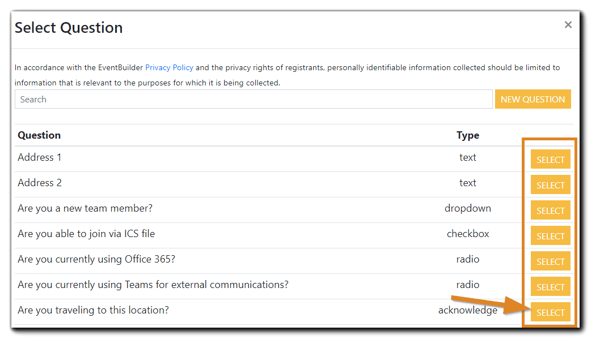 The selected Question will be added to your Event:
Click the 'Required?' checkbox to make the Question mandatory if desired.
To create a Question to add to the Unified Question Bank and your Event, click on the 'New Question' button:
The Create Question window will open: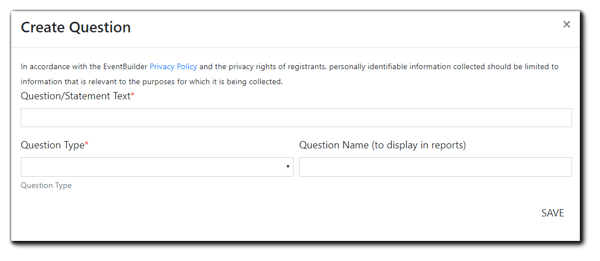 Enter your Question (required). Then, choose your Question Type:
When you select Dropdown list, Radio button, or Checkbox, an Answer section will appear below Question Type/Question Name fields:
To add an answer, click on the green '+' sign. Enter your answer in the field that appears. Arrange the order of the answers in the Display Order field to the right of your Answer field.

Next, enter a Question Name that will display on your Reports. We recommend creating a Question Name that will be easily identifiable on your Reports.
Click 'Save' to return to the Engage window. Your newly-created Question will appear in your Questions list. Add the Question to your Event by clicking 'Select.'
Polls (For Streaming Mode and Simulated-Live Mode)
Poll questions can be created ahead of time or on-the-fly and launched to Attendees during the Live Event by the Presenter, Moderator, or Organizer.
To add a Poll, click on the green '+' button. Follow the instructions for adding and/or creating Questions as described above.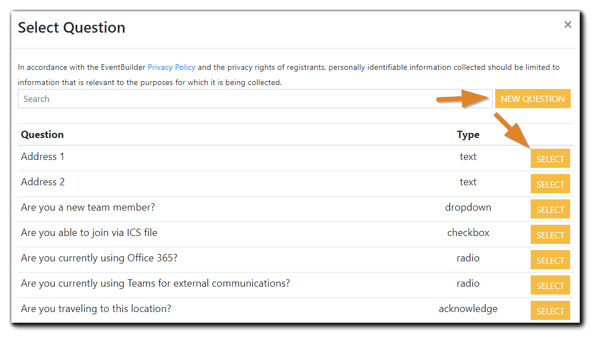 The Poll is now added to your Question Bank and your Event.
Survey Questions
Surveys provide valuable feedback Organizers can use to refine and improve their Events. A link to Event surveys can be added to communication emails at any time during the life of the Event. Organizers may want to survey Registrants prior to their Event to help Presenters tailor their content, or afterward to gain post-Event insight.
To add an Event Survey, click on the green '+' sign.

Follow the instructions for adding and/or creating Questions as described above.
You can now send the survey to anyone using our built-in emails. Your Survey URL can be found in the Registrant Variables tab in the Communicate section of your Event build: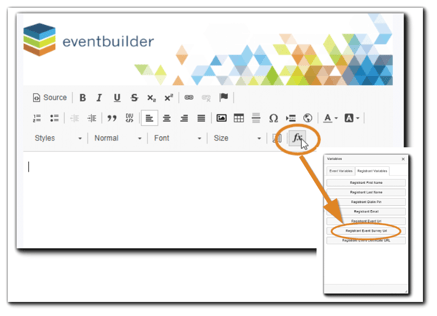 Additional Resources
Registration Pages have a space for Organizers to add links to additional Event information or supporting materials.
To add links for Additional Resources to your Registration Page, click on the green '+' sign:

Enter the name of the resource you wish to add and the URL, and choose if you would like the resource to display on the Registration Page and/or during the Live Event.

Organizers can add an unlimited number of links to support their Event.
Note: The option 'Display during live event' is only available for EventBuilder Streaming Events.
Any "Additional Resources" links added will be included on the Registration Page: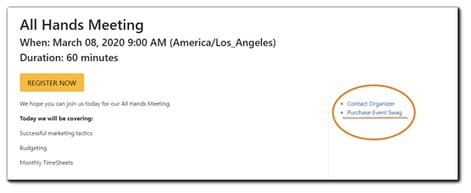 Click 'Save & Continue'
---
Next: Communicate Overview
---