​Event Management Roles:
A brief overview of Event Management Roles and the permissions for each
Last updated: April 13, 2020
When creating an Event, three primary roles are available:
Organizer
An Organizer can create Events and access all functions, including editing Events, access to all features on the Live Event Console and the ability to pull reports. An EventBuilder subscription on your portal is required to be assigned an Organizer.
Moderator
A Moderator has access to all in-session Event features, including starting and stopping the stream, Messages moderation, adding handouts, posting announcements and polls. An EventBuilder subscription is not required to be assigned a Moderator.
Presenter
A Presenter is responsible for presenting the material and answering Attendee questions. They have access to most in-session Event features except the ability to start and stop the stream. An EventBuilder subscription is not required to be assigned a Presenter.
EventBuilder allows Organizers to assign roles based on event needs:
Presenters cannot control Events. They can provide Event materials, facilitate Attendee engagement such as ask polling questions, and lead the Event.
Moderators can control live events. Moderators have the same privileges as Presenters, as well as: starting and stopping the stream, provide basic event troubleshooting, answer Attendee questions, etc.
Organizers have the same privileges as Moderators and Presenters. Additionally, Organizers can: make changes to the scheduled Event time and registration page, pull reports pre- and post- event, and upload/download Event recordings.
Moderators and Presenters are assigned by the Event creator (Organizer), and upon assignment the Organizer may choose to send an email confirmation with a link to access the Event. The email also has an attached calendar invitation for recipients to add the event to their schedule. Organizers, Presenters, and Moderators gain access to the Event and all technologies 30 minutes prior to start via the unique link provided in the invite email.
Event Management Roles at-a-glance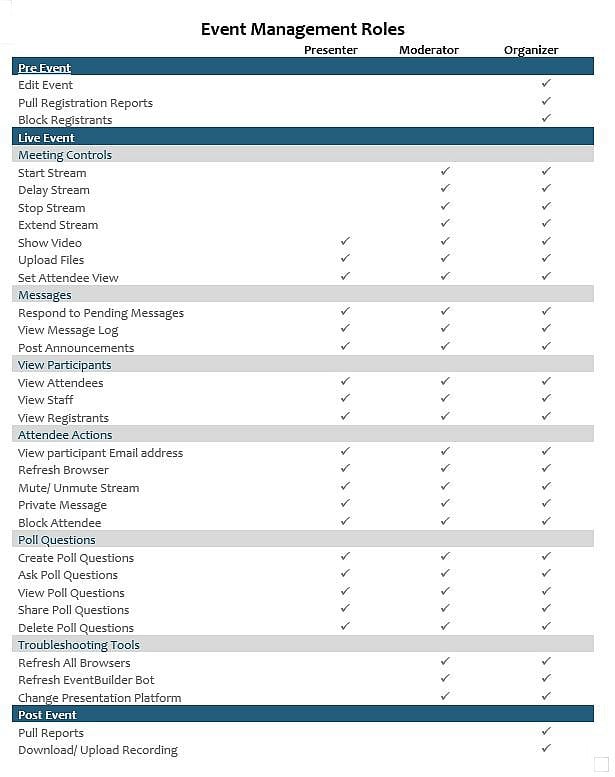 ---