Adding and Setting Up User Accounts
Last updated: September 30, 2021
After the Portal has been configured by an Administrator, additional named User Accounts can be created and set up.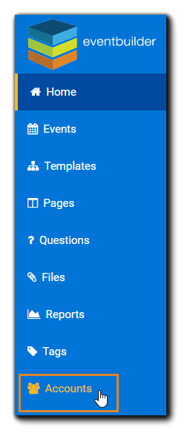 The Accounts Page
After selecting 'Accounts' on your navigation, a list of all current User Accounts will appear:


The icons to the right of the User Account name and email are:
Events - Show Events created by User

Templates - Show Templates created by User

Questions - Show all Questions created by User

Files - Show all Files added by User

Reports - Show all Reports run by User

Tasks - Show list of Tasks initiated by User (e.g., emails sent)


Create New Account
Click on the 'Create New Account' button.

The New Account dialog will appear. Fields marked with a red asterisk are required. Note: Named User Accounts must be associated with an individual User. General correspondence email addresses are not permitted.
Select a role for your new User.
In addition to Administrators, there are three primary Roles available: Organizer, Moderator, and Presenter. Organizers can create Events and access all functions, and a paid EventBuilder subscription is required. Moderators and Presenters, shown as "Guest" in the drop-down, do not require a paid EventBuilder subscription to be assigned their Roles.
Learn more about Event Management Roles.
Event Contact Name and Event Contact Email - Enter the name and email address the User will send event correspondence to and from, if different than the named account user's entered above. E.g., events@excellentevents.com

User Bio/Headshot/Social Media/Websites

-

The lower portion of the New Account screen includes options for adding a photo/headshot and a Bio for Account Users, as well as links to social media profiles and websites, all generally useful for your Event Presenters and/or Moderators. If enabled during an Event build, this information appears on Registration Pages.

API Key and Secret - Administrators and Organizers can grant secure access to EventBuilder's API. Learn more about API Key and Secret.

Enabled checkbox

- S

elected by default. If a User becomes inactive, unchecking this box will deactivate their account and they will no longer have login access.
Note: Multi-factor authentication is enabled on all EventBuilder portals, so the first time your new User logs into the Portal, they will be prompted to be sent a one-time access code via email. Learn more about User Verification options: multi-factor authentication.
Click 'Save' to return to the Accounts screen.
---