Closed Captioning for On-Demand and Simulated-Live Events
Last updated: May 11, 2023
Organizers can order automated closed captioning for Simulated-Live Events, and live captioning (human assisted) for On-Demand Events.
Simulated-Live Events
Automated captions are available for Simulated-Live Events at no charge. To order auto captions, please refer to the article: Ordering Closed Captioning Instructions.
Order Process: On-Demand
Human-assisted captioning is available for On-Demand Events at a cost of $300 per hour. A captioner will generate a WebVTT file to attach to your recording.
Note: A your recording file must be added to the Event at least 5 business days in advance of when you would like your event available for viewing.
On the Schedule step of your Event build, upload your recording in the 'Recording' field: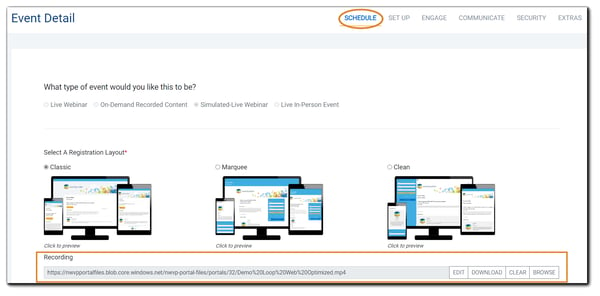 Navigate to the Extras step and scroll down to the Closed Captioning section:

In-software instructions state the following (image text):
Closed captioning services include captions on the recording, and a WebVTT file. EventBuilder captioning services are compliant with Section 508 of the Rehabilitation Act and the Americans with Disabilities Act requirements.

By default, closed captions are displayed in English for an English-speaking presenter. Additional languages are available. If you would like assistance on event day, EventBuilder offers professional moderation services. Contact EventBuilder to learn more about additional languages and/or professional moderation services.
WebVTT File Upload
Simulated-Live (automated captions) - a WebVTT file is created after Event completion and automatically attached to your Event. To verify the file has been uploaded, navigate to the Extras step on your Event and scroll to the Closed Captioning section. The WebVTT file will appear in the field:

On-Demand - your WebVTT file will be uploaded to your Event and emailed to you from our Services team.
Our Commitment to Accessibility
Making sure all of your Attendees can access your Events and customize their experience as it best suits them is a priority for EventBuilder. We work continually to design our products and services for everyone to access and enjoy without barriers. If you have a specific Accessibility need, please contact our Services Team: services@eventbuilder.com .