Delivering Events in Webinar Mode
Last updated: April 4, 2023
You've created your Event, collected Registrations, and it's the big day. Microsoft Teams and EventBuilder work together seamlessly to deliver live Events in Webinar Mode.
Pre-Conference
Organizers and/or Moderators can join the Microsoft Teams room prior to the start of their Event to check for connection, audio, and any other technical considerations.
Attendees can join your Event up to 30 minutes prior to the scheduled start time. If you would prefer a pre-conference time without Attendees joining the Teams presentation, we recommend setting a Lobby in the Microsoft Teams Meeting Controls area.
Attendee Access
Attendees access your Event via the link provided in their Event Registration Confirmation. Upon clicking the link, Microsoft Teams will launch a browser window with a dialog asking the Attendee how they would like to join the meeting: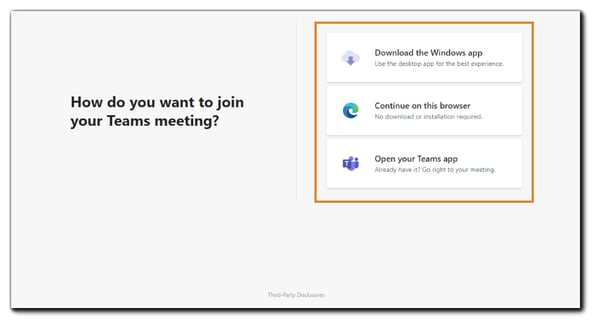 Note: EventBuilder recommends using the Microsoft Teams Desktop Client.
If you have Attendees joining the Event via the Teams Web App (the "Continue on this browser" option), please communicate the following requirements:
Supported browser: Microsoft Edge or Google Chrome.
Operating System: Windows 10 and up. For the best experience, use the latest version of any operating system.
Broadband internet connection of 2 mbps minimum per attendee.
At a minimum you should make sure that the following common ports are open:

-TCP ports 80 and 443 outgoing from clients that will use Teams.
-UDP ports 3478 through 3481 outgoing from clients that will use Teams.
Upon selection, Attendees will be directed to the Event's Teams room.
Attendee Experience
All features/functionality for the Event is that of Microsoft Teams, including chat, 2-way audio, and/or whiteboard. Attendees can see who is in the Event and other Attendee's messages.
Recording Your Event: Things to Note
Essential and Suite subscribers can record their Events for later on-demand viewing. Things to note:
If recording is enabled, an EventBuilder bot will join your Event 30 minutes prior to the scheduled start time.

When the bot appears in the Teams Waiting Room, admit the bot into Teams and set it to "mute."

Once you have verified the bot is in the Teams room, your Event is ready to record.
The Moderator Console is available for recorded Events to test for audio functionality and recording control. Simply log into your EventBuilder Portal and locate the Event during the pre-conference time, after the bot has joined your Teams room.
The Delay and Extend functions are available in the Moderator Console if you would like to customize the start and stop of the recording.
The Event recording is available shortly after your Event and is posted to the Registration page for later viewing.
Video Training: Delivering Events in Webinar Mode