How to Create Listing and Search Pages
Last updated: April 6, 2021
Create Listing or Search Pages to collate/group together similar events onto one page, accessible to Invitees via a single URL.
Learn about Listing Pages, as well as Custom Pages, see our Pages Overview.
Page Creation
Navigate to the Pages view on the left-hand navigation of your account dashboard.
Click on Pages, and a list of available Pages on your portal will appear.
In the list of existing Pages you will see basic information about each, including name, creation date, Organizer, and Page type. To the right you have options to view, copy the page link URL, or create a copy of the selected Page.



To create a new Page, click on the blue 'Create New Page' button
---
Listing Page Creation
Select the Listing Page option:


Upon selecting the Listing Page option, the following dialog appears: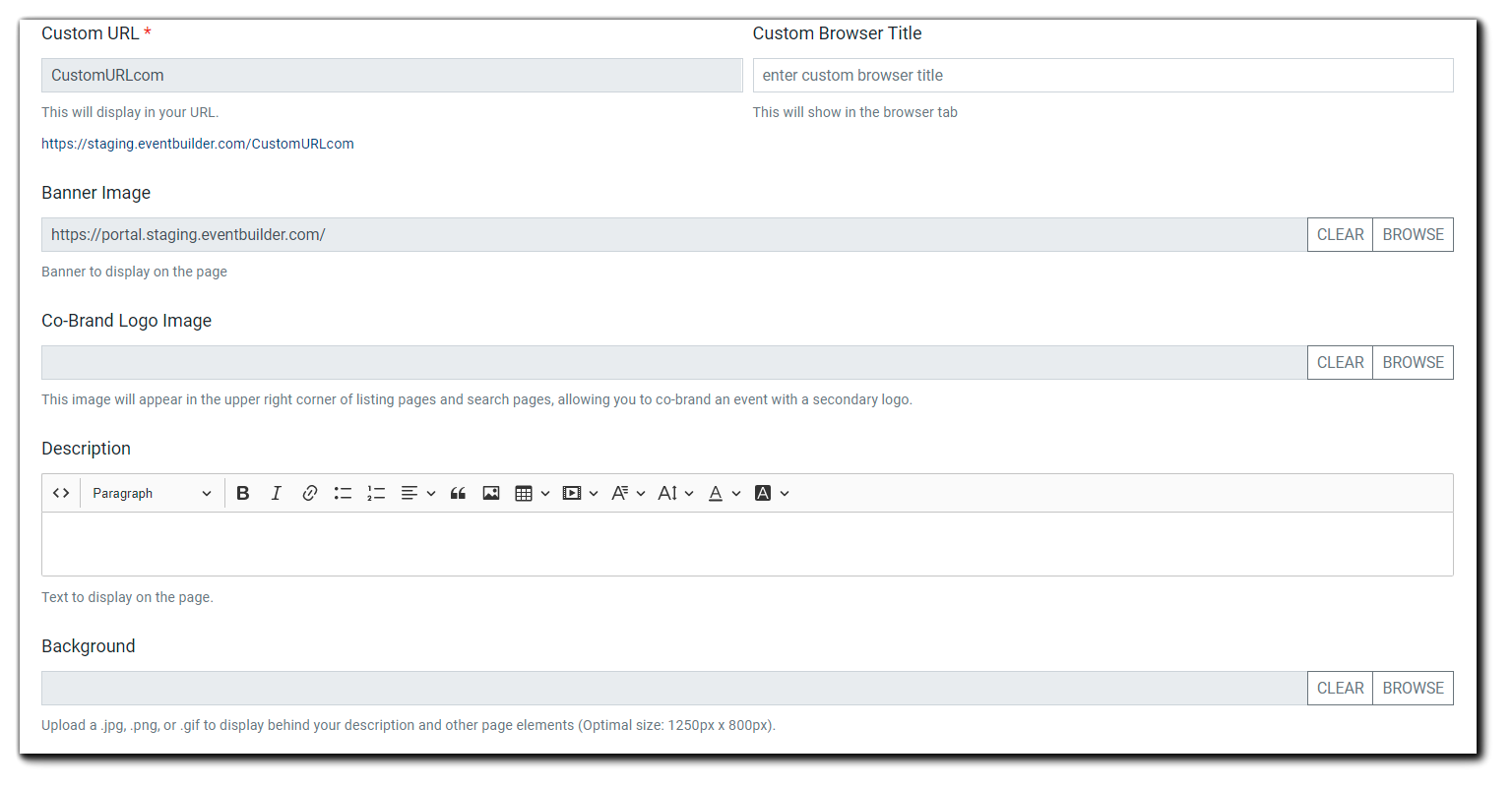 Here, Organizers can customize the look of the Page:
Enter a custom URL - Required
Enter Browser Title - Wording on a browser's tab
Upload or select a Banner Image - Recommended dimensions: 1400 px width.
Upload or select Co-Brand Logo Image (if applicable)
Description - Create a description of events being offered through the Listing Page. Note: the Description area is a fully customizable WYSIWYG-style editor that supports HTML, images, iFrame, and CSS stylesheet class attributes.
Background - (Suite-level subscribers only) Upload a background image to display behind Event descriptions and page elements. Supported image types: .jpg, .png, .gif Recommended dimensions: 1250 x 800px
Add an Event List Header, or leave the default ('Events').

Select or create an Event Tag:

Tags must be added to each Event that you want to appear in the Listing Page and need to match exactly in order to be shown to Invitees.

Reminder: EventBuilder software will recognize the following non-alphanumeric characters: # (hashtag or pound sign) and _ (underscore). Tags cannot have spaces and are not case sensitive.
Next, select from the following options:
Remove Events option: Selected by default. Deselecting this option results in the event displaying "No Archive Available" on the page.
Allow other Organizers to edit this page? Allows other Portal Organizers to customize this page for their use. Otherwise, only the Organizer who created the Page can edit.
Enable Registration Efficiencies - Allows

Invitees to enter their information a single time and

register for all of their selected events at once. Organizers can further customize the Registrant's experience with options for 'Select all by default?' and 'Allow events to be unselected?'

Default Event Sort - Events may be sorted on the Listing Page by Event Title, Event Date Ascending, or Event Date Descending
On-Demand Events Sort -
Display Type - Organizers have the option to display events in either a table-style or card-style:
Events Per Page - Organizers can set the number of Events displayed per page.
---
Organizers can add Search functionality to Listing Pages with the following options:

Search Filter Settings provide Organizers the flexibility to broaden or narrow Invitee search results and sort them. Choices for filtering include:
Tags - Invitees can search for events by specific Tags that Organizers have chosen to include.
Event Type - Enabling the Event Type filter provides Invitees with results based on the types of events Organizers have made available, such as On-Demand, Streaming Mode, etc.
Start Date/End Date - Enabling Search Start Date and/or Search End Date sorts results accordingly, so Invitees can see quickly when the event(s) they are interested in are occurring.
Search Text - Enabling Search Text allows Invitees to search for Events based on words or characters.
With Source Tracking, Organizers can add an unlimited number of unique registration URLs for each of their channels and segments used to invite Attendees.


After clicking on 'Save,' a Source Tracking confirmation dialog will appear. Organizers can copy the link by selecting the link icon

---
Custom Pages
Custom Pages are available for Organizers to create a standalone web page with custom content related to their company and/or events including co-branding information, provide links to a Listing and/or Search Page to help direct Invitees or provide additional information, and more. Html, images, video content, and style sheets are all supported.
---