Moderator/Presenter Invitation and Access
Last updated: September 24, 2021
Organizers assign Moderator and Presenter roles as part of the Event creation and management process. Organizers or Administrators create Guest Accounts for these individuals. There are two ways for Moderators and Presenters to access the Event: email invitation or calendar link.
Accessing Events via Email Invitation:
An email invitation will arrive in the Moderator or Presenter's inbox:

Note: Moderators and Presenters should check their junk/spam folders and allowlist EventBuilder emails.
The email provides basic instructions for your Moderator or Presenter, including Event details and access instructions: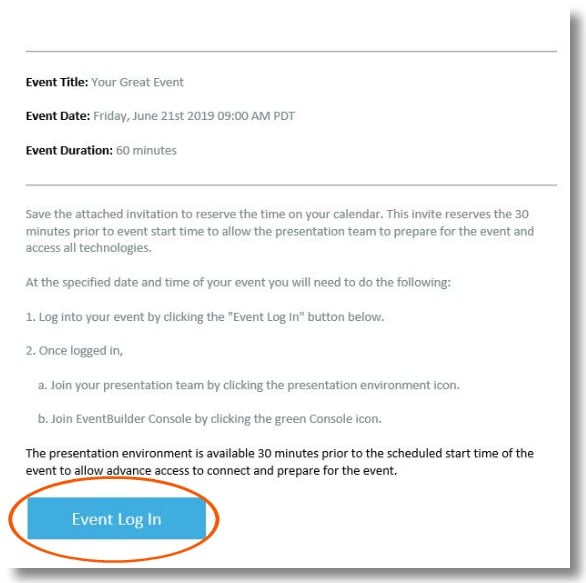 Launching EventBuilder and Accessing Event
After clicking the "Event Log In" button, the user will be directly taken to the EventBuilder Portal where they will have three options: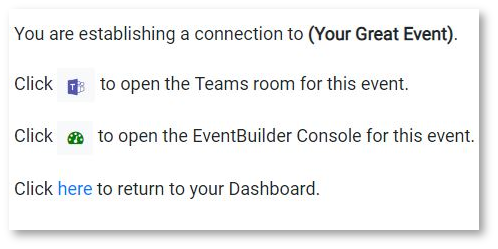 Opening Microsoft Teams takes the Moderator or Presenter to the meeting room where they can monitor, participate, and/or speak during the Event.
Opening the EventBuilder Console takes the Moderator or Presenter to their Event tools and controls (these will vary depending on the User's role.)

Moderator Console View
Selecting the "Click here to return to your Dashboard" option takes the Moderator or Presenter to an overview of the events they are currently scheduled to attend within a selected date range.

Note: Presenters and/or Moderators are automatically logged out of the Portal one hour after the actual end time of the Event for webinars, and one hour after the scheduled end time for In-Person Events.
---
Accessing Events via Outlook Calendar Invite
Note: If your Moderator or Presenter does not use Outlook, they will need to import the invite.ics file into their calendar program.
The email invitation includes a calendar link:

This allows Moderators or Presenters to add the Event to their Outlook calendar, where they can click on the Event and be directed to the EventBuilder Portal. Once logged in, the connection options will be the same: Open in Microsoft Teams, Open EventBuilder Console, Return to Dashboard.
Presenter/Moderator Portal Permissions
Guest Account holders and have limited access to your Portal. Individuals assigned Guest Accounts permissions include:
File Repository - In preparation for their Event, Guest Account holders can upload their presentation materials, such as a slide deck or video, to their account's individual file repository. Guest Account holders cannot access other files or information on the Portal.
Assigned Events - Presenters and Moderators can access the Console and view the details of the Event(s) they are assigned.
---