Registration for Attendees FAQ
Last updated: May 11, 2023
Below, find tips on how to successfully register for your Event.
For questions regarding Microsoft Teams or Teams Live Event, please refer to Microsoft Teams support resources .
---
Registration and Event Access
I didn't receive a confirmation e-mail
Once approved, a registration confirmation email is automatically sent. If you do not receive your confirmation:
Please check your spam/junk email folders.
If you are unable to locate your confirmation email after checking in spam/junk, please contact your event's organizer.
I'm getting a "Registration Pending" message when I try to register
A 'Registration Pending' message indicates that the organizer will review your registration. Tiy will receive a confirmation email with join information included once your registration is approved.
If you do not receive a confirmation email, contact your event's organizer.
I'm getting an "Access Denied" message when I try to register
Organizers have a variety of security configurations available to set when building events. The current setting may be causing this message to appear.
Please contact the event organizer for assistance.
How to cancel/edit my registration?
To edit or cancel your registration, locate your confirmation email. Click on the "edit/cancel" button.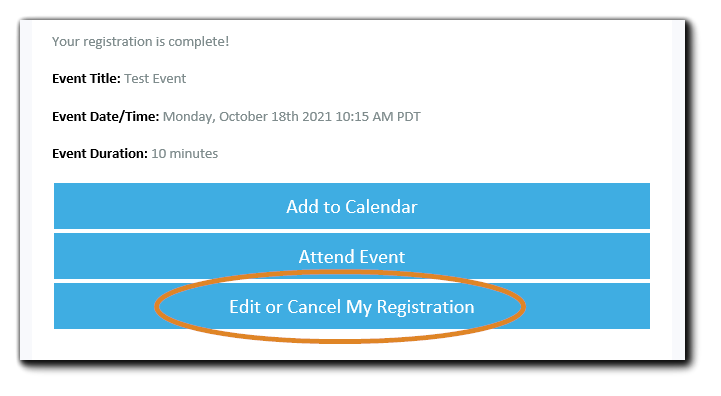 You will be directed to your registration record. A verification code will be sent to the email address on record.
Enter the verification code to access your registration information.
In the registration dialog, make any edits/changes and click 'Update Registration.'



To cancel your registration, click on the yellow 'Cancel Registration' button.
Note: Your event may have a registration deadline configured, in which case editing or canceling may not be possible.
A join link is included with confirmation and reminder emails (if enabled).
The join/access event button on the registration page is not active until 30 minutes* prior to your event's start time.
*On most events, join availability generally opens approximately 30 minutes prior to the event's scheduled start time.
How do I reach the event contact?
To reach your event's contact, navigate to the registration page.
Click 'Contact Organizer' located on the Registration page.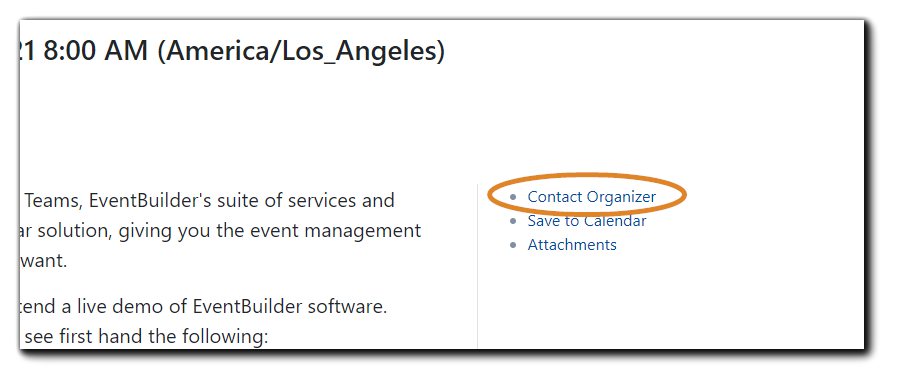 Stuck? Contact EventBuilder Customer Care
For questions regarding event access or content, reach out to your event organizer.
For technical assistance, email care@eventbuilder.com