Building Events: Schedule Overview
Last updated: August 4, 2023
After choosing how to start building an Event, the next step is the Schedule section. On the Schedule step in the Event Detail, Organizers select the mode, layout, streaming/recording options, Event duration, and more.
Registration Layout Views: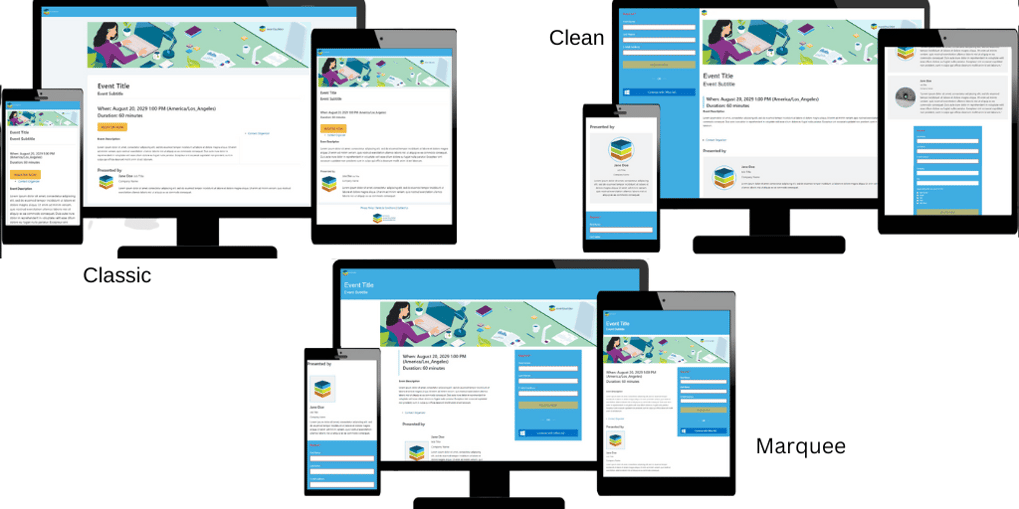 Event Modes
For Free and Essential subscribers, the default mode for Events is "Webinar Mode."
Essential, and Suite-level subscribers have the option to create In-Person Events.
Suite-level Organizers have the additional option to select Live Webinar, On-demand recorded content, Simulated-Live Webinar, or In-Person Event modes.
Meeting Link
Because EventBuilder works in conjunction with Microsoft Teams, Organizers must first schedule a Teams or Teams Live Event, copy the meeting URL, and paste the link in the required field.
Presenter-Moderator Access
Next, Organizers add and invite their Event's Presenters and/or Moderators. A paid User Account on the Portal is not necessary for Moderators or Presenters, as there is a Guest Account option available to assign these roles. Organizers can decide whether or not to email Presenter/Moderator access instructions depending on individual need. See Presenter-Moderator Access for more information.
Event Schedule Options on Templates
Some Schedule functions can be set by Organizers at the Template level for consistency and efficiency across Events. Functions available to set at the Template level include:
Mode
Layout
Stream/Record
Subtitle
Do you want to Stream your Event? Read our Streaming Console Guide to learn more.
Additional Tools and Support
At the bottom left on each step of your event build are four icons:

View Registration Page - Preview your Registration page at each step of your event build.
Copy Registration Page Link - Copy the Registration page link.
Show Reports - Open the Reports area to set up event reporting.
Email EventBuilder Customer Care - Opens an email window addressed to care@eventbuilder.com

to access support.

(Note: Customer Care is available Sunday 5pm to Friday 5pm Pacific Time)
---
Next - Building Events: Schedule - Instructions
---