Templates Overview
Last updated: December 16, 2020
EventBuilder's powerful Templates tool creates the foundation for Administrators and Organizers to set and control the layout, style, branding, and functionality for your events.
Template Basics
Using Templates to set up your webinars and events enables you to collect consistent data from Registrants. We understand one of the most useful and flexible functions EventBuilder offers can also be confusing until you have some practice and examples. Here are some things to know about Templates:
Questions added to your Template, (such as Registration, Polling, and Survey) and Files (such as a disclosure statement) are enforced for each event built from that Template.

An Organizer can add Questions and Files to their event but cannot remove Questions and Files added at the Template level.
Editing a Template will affect all Events and other templates created from that Template. For example:
Company A rebranded and updated their logo. Changing the banner at the portal-level template will change the banner for each "child" template and each event created with the template, past and present.
Template Levels
Templates are two-tiered, allowing for customization at each level:
Portal-level Templates: These "top-level" or global Templates are created by the Portal Administrator. The Administrator can set default Questions and Files to ensure consistent data is collected for events.
Organizer-level Templates: These are Templates set by Organizers to customize a unique set of events. Questions and Files set at the Portal-level will be included in Templates created by an Organizer.

Note: We advise Portal Administrators to create a Portal-level Template to include the basic information you want to collect and the file(s) your organization needs to use, such as your Privacy Policy. This will leave room for Organizers to customize their Templates and Events to apply to their unique Event circumstances.
Template Inheritance: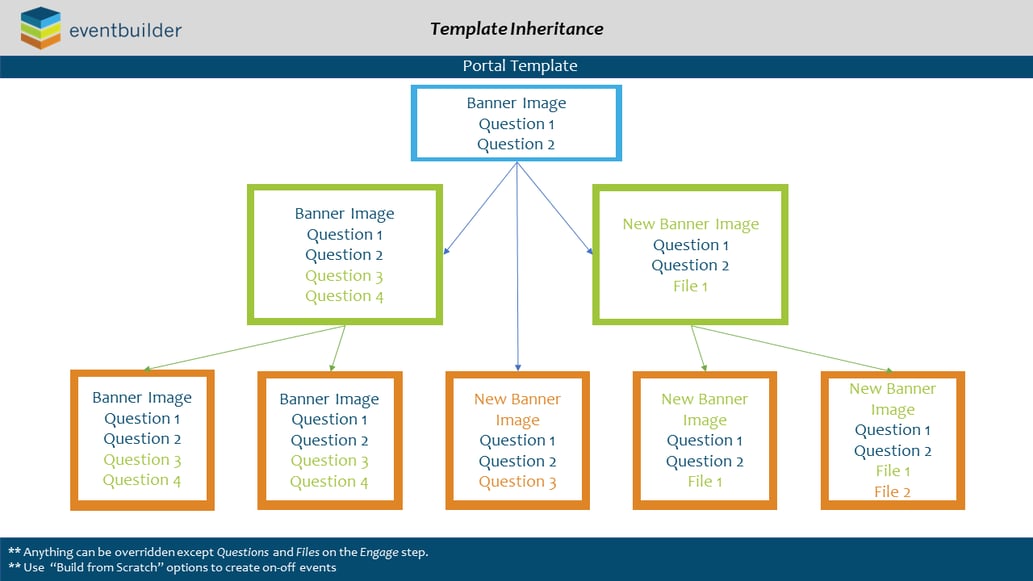 ---
Click here for a list of editable/locked fields on each build step
While Template creation mirrors Event creation, there are a few things to note about this section of your EventBuilder Dashboard.
Navigating the Templates Section of Your Dashboard
To view your Portal-level and Organizer Templates, navigate to the Templates view on the left-hand navigation on your account dashboard.

Click on My Templates to view a list of your Organizer-level Templates.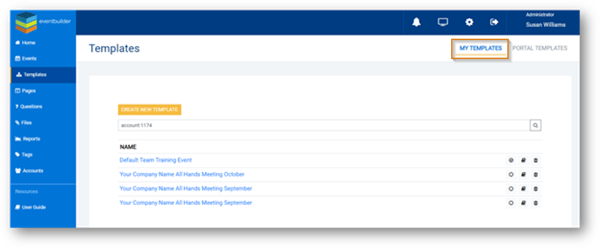 Click on Portal Templates to view a list of Templates available to everyone on the portal.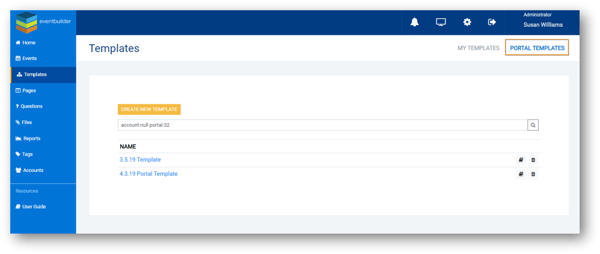 Reminders:

Administrators can

edit

Templates and create Portal-level Templates from this page.

Organizers can

view

each Portal-level Template's settings but cannot make changes or create new Portal-level Templates.
If no Templates have been created, this page will display the message "No Templates found" until one has been created.
When creating a Template from scratch, keep in mind the following:
Templates built from scratch inherit all the properties of the global, Portal-level Template. Administrators set questions and/or attach files from the global Portal-Level Template and the new Template will inherit them. They cannot be removed from the new Template. Questions and files can be added, and all other properties updated as appropriate.
Click here for a list of editable/locked fields on each build step
---