Search Tools
Last updated: July 6, 2022
EventBuilder's software has features that allow Administrators and Organizers to quickly search for information on their Portal, including Registrants, Events, and User Accounts. Here is a brief overview of our search tools and tips for using them efficiently.
EventBuilder Search Basics
From the navigation menu, Users can access Search tools for the following areas: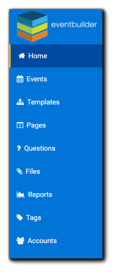 Events
Templates
Pages
Questions
Files
Tags
Accounts (Administrators only)
Additionally, Administrators and Organizers can access the search tools for Registrant information from their Events list.
Portal Permissions
Administrators can use the search tools to access data and records Portal-wide.

Organizers can utilize the search tools for Events, Registrant Information, Templates, Files, Questions, Pages, and Tags that are associated with their User Account, as well as the following Portal-wide items: Templates, Questions, and Files.
General Search Tips
Users can search with minimum of 4 characters/spaces in the search field.

The more open-ended the search term, the broader the results. The more exact the search term, the narrower/targeted the results.

In all areas with the Advanced Search option, Users can sort columns in ascending or descending order by clicking on the column title.

If the search field has commands in place (as seen in image below), add a space after the commands, then enter your search terms for correct results.
Advanced Search
Events, Registrants, Templates, and Accounts have an Advanced Search option, indicated by the magnifying glass icon.

To filter results by specific field parameters, click on the magnifying glass icon. The Advanced Search window will open, and you can refine your search parameters in the fields provided.

The option to select multiple search criteria from a single dropdown menu is available for Events, Templates, Pages, and Questions, and Accounts.


Account Search Tips
Administrators can search for and access Guest Accounts on the Portal by clicking the search field's magnifying glass to open the advanced search filters window. From the 'Role' drop down menu, select 'Guests.'
Organizers can search for and add Guest Accounts (Presenter/Moderator Accounts) on the

Schedule Step

of an Event build to assign the guest's role for their Event.

Organizers can create and/or add any guest on the Portal to their Events, however, only Administrators can edit Guest Accounts via the Accounts section.




Registrant Search Tips
Administrators and Organizers can manage Registrant records associated with Events
Administrators have access to all Registrant records across the portal, while Organizers have access to the Registrant records associated with their Events.
From the Events area, Organizers can access Search tools for Registrant Management by choosing the Registrant icon for the associated Event.

---