Closed Captioning
Last updated: August 13, 2020
Organizers can order Closed Captioning for their Events. Closed Captioning services include live captioning during your Event, captions included on the archive recording, a WebVTT file, and an editable transcript. EventBuilder's captioning services are compliant with Section 508 of the Rehabilitation Act and the Americans With Disabilities Act.
Associated Costs
The Closed Captioning service can be ordered on a per-event basis for $300 for a 1-hour Event. By default, captioning is displayed in English for an English-speaking presenter. Select additional languages are available with an additional charge of $100 per hour, per language for the first hour, and $50 per language for each additional hour.
Requirements
Closed Captioning must be ordered a minimum of 5 days prior to the scheduled start time to avoid a rush fee. Other change fees may be incurred, e.g., the Event is canceled on short notice.
Closed Captioning Order Instructions:
Navigate to the Extras Step on the Event Detail, and scroll down the page: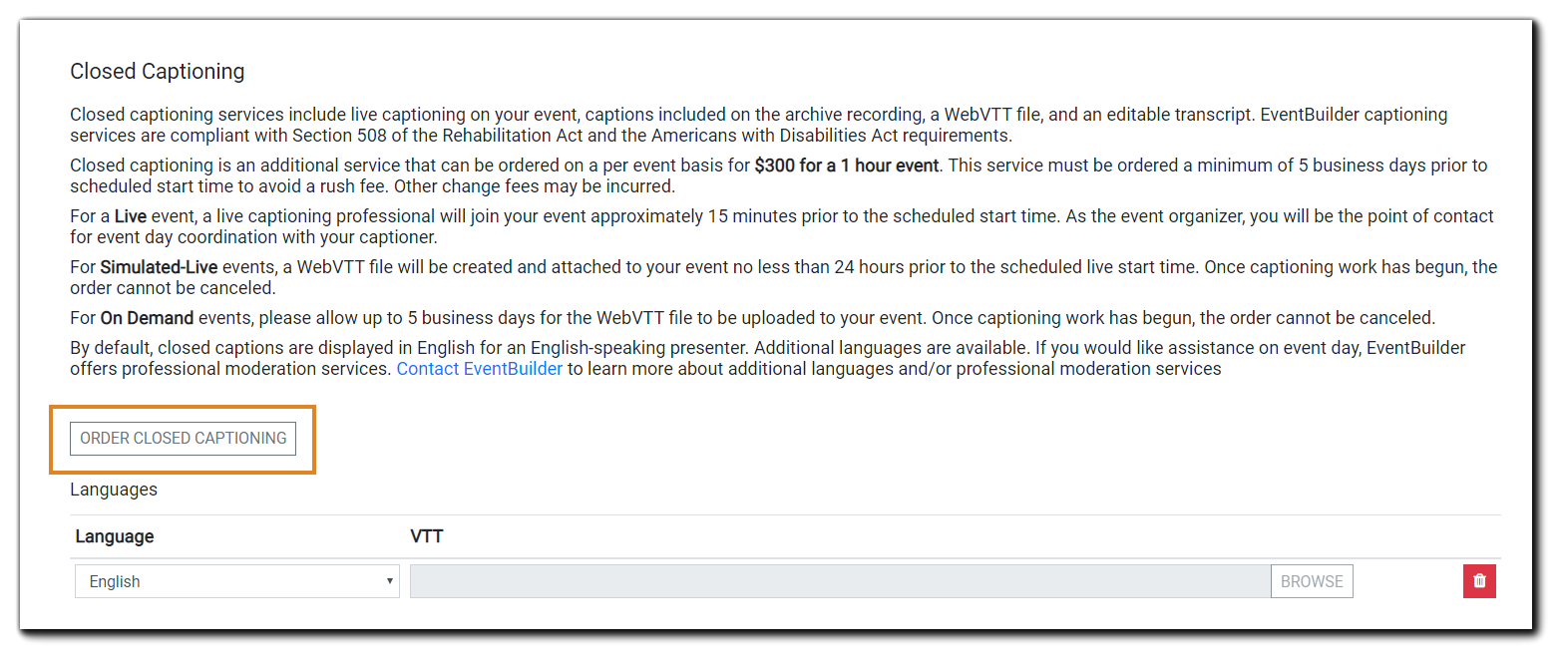 Click on the 'Order Closed Captioning' button to order captioning services for your Event. This action places the Closed Captioning order. You will receive further instructions directly from our Care team via email.
---
What To Expect For:
---
Live Events
A live captioning professional will join your presentation environment approximately 10-minutes prior to the scheduled start time. Organizers serve as the point of contact for event-day coordination with the assigned captioner. The Organizer should confirm they are able to hear the pre-conference and the Start-Stop cueing below:
Before starting the stream, cue your captioner by saying, "We will be live in 3--2--1."
To end captioning, cue your captioner by saying, "You may now disconnect."
Attendees can choose to view the captioning by clicking on the CC icon in the bottom right-hand corner of the main viewing area and selecting English. Captions will then appear in the stream for your audience.
Note: non-English language captions are provided to Attendees via URL that Organizers post using the Messages feature. Contact Customer Care for additional instructions.
At the end of the Event, you will receive an editable transcript and a WebVTT file. The WebVTT file is what attaches the captions to your recording.
Simulated-Live Events
For Simulated-Live Events, a WebVTT file will be created and attached to the Event no less than 24 hours prior to the scheduled live start time. Once captioning work has begun, the order cannot be cancelled.
On-Demand Events
For On-Demand Events, please allow up to five business days for the WebVTT file to be uploaded to the Event. Once captioning work has begun, the order cannot be cancelled.
---