In-Person Events
Last updated: February 15, 2021
Essential, Pro, and Suite-level Organizers can utilize EventBuilder's powerful Registration and Reporting tools to create In-Person Events for seminars, courses, conferences, meetings, and off-sites.
Building In-Person Events:
First, navigate to your Events from your dashboard: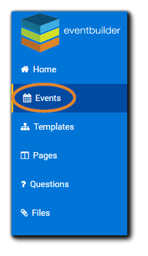 From your Events list, click 'Create New Event'
This will take you to your Event Detail's Schedule section:

For Event Type, select 'Live In-Person Event:'

Once you select 'Live In-Person Event,' the options for scheduling and providing details, including venue name and address, will appear below the 'Select Registration Layout' section:

Enter day/time and venue information. Click on the green '+' to add additional days/times (if applicable.)

Next, add Presenters, Moderators, and/or additional Organizers.
Presenters and/or Moderators will be displayed on your Registration page. Additionally, adding Presenters/Moderators/Organizers to your In-Person Event will grant them access to the Registrant area in EventBuilder, where they can assist Attendees with check-ins, on-the-fly changes, and attendance tracking.

Learn more about Event Management Roles.
Learn about Presenter/Moderator Access.
Communication
When Organizers select 'In-Person Event' and add venue information, Event communication emails will automatically include venue details: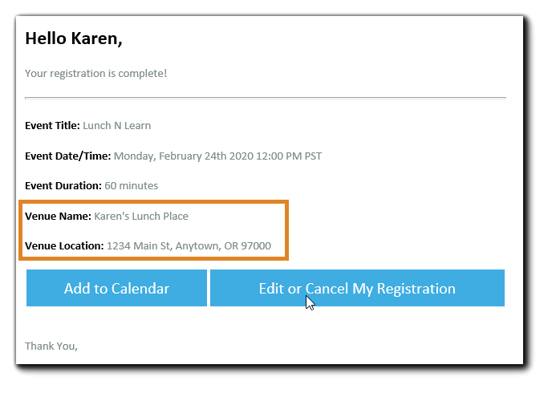 Three Tips For In-Person Events Best Practices
EventBuilder recommends customizing two additional areas in your Event build to ensure a seamless Attendee experience for in-person Events:
Customize and update the calendar invitation content to ensure all pertinent information regarding the Event is included.
Customize your Event's Registration Page Action Button Labels to reflect language appropriate for In-Person Events.
If you are hosting more than one occurrence of an in-person Event and would like the Events to appear on a Listing Page, we advise Organizers to disable 'Add to Calendar' button on the Registration Confirmation and Event Reminder emails.

To customize content for the Calendar (.ics) file, navigate to the Calendar Invitation Content section in the Communicate portion of your Event build.
To customize Registration Page Action Button Labels, navigate to the Registration Page Action Button Labels section in the Extras area of your Event build. Click 'Show/Hide' to open the dialog.
Click 'Save & Continue' to complete the next steps in your Event build.


---