Teams Live Event is a perfect fit for larger, one-to-many broadcast events you would like to offer publicly. The problem? Publicly offered Teams Live Events don't have integrated security options available to help keep your event safe from "Zoom Bombers." If you want to keep the crashers out, you can add security with our software. The bonus? You'll capture registration and attendance data as well. Win-win.
Current Teams Live Event Security
When creating a Teams Live Event, you are prompted to set up live event permissions: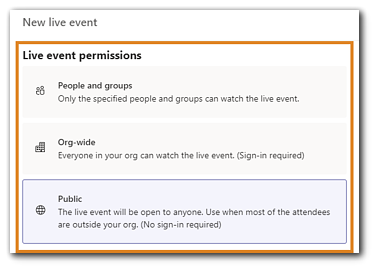 Event organizers can choose "People and Groups," which invites internal, on-domain entities. "Org-wide" means that everyone on-domain can watch the event, and a sign-in will be required. Finally, the third option is "Public," making it open to anyone with a link to the event, with no sign-in required.
What does this mean? If any of your invitees are off your domain, you have to set the Teams Live Event to "Public." This option doesn't require a sign-in, so capturing accurate attendee data is challenging. Attendees can be anonymous with this setting, and collecting fake data for reports won't help you much with programming and lead strategy.
To give you an idea, here's an example: When your event is set to Public, an attendee can join, call themselves Lady Gaga, and you won't know if you're actually presenting to Lady Gaga or a random human who is messing with you. While this is a humorous example, anonymous attendees crashing your event is a real risk to your event, other attendees, and ultimately, your brand reputation.
EventBuilder Security Options
When hosting a public Teams Live Event, using EventBuilder to integrate security allows you to maintain control of the event, as well as helping you with registration, data gathering, and reporting. Choose from:
Let anyone register and attend
Manually approve registrants before they can attend
Allowlist or Denylist using an uploaded .csv file
Allowlist or Denylist by querying a remote server
Require registrants to verify via email
Use a validation question for registrants to enter a promo code
Limit the maximum number of registrants with a waitlist
Security Add-ons
EventBuilder also provides organizers with several add-on options. Choose a security setting listed above, and add additional parameters to suit your needs. Add-on security options include:
Limit the maximum number of registrants
Two-Factor Authentication upon joining
Registration Close Date
Registration Cancel/Edit Deadline
Content Expiration
How does that work, exactly? EventBuilder's security options provide you with both a "ground floor" layer of security and the flexibility of add-on options to shape your event security however you need.
Here's an example scenario:
Your event is a product demo/launch, and you want to cast the invitation net wide but maintain event security at the time of joining. In other words, once registered, you want the attendee to verify their registration before joining the event.

Select "Allow anyone to register and attend"
Choose "Two-Factor Authentication upon joining"

Your attendee will register, and at the time of the event, access it from the join link provided in their confirmation email. Once selecting "join now," a notification will appear, informing them they will receive a verification code via the email they used to register with a verification code. Once your registrant enters the code, they will be delivered into the Teams Live Event. Everything will look like the familiar Teams Live Event environment, but you have chosen an overall security setting (Let anyone register and attend) with an add-on (Enable two-factor authentication).
Popular Security Options For Teams Live Event
While there are myriad combinations for event security with EventBuilder, we find our customers using our software with Teams Live Event seem to gravitate toward a few security settings. Yes, people actually have favorite security settings. Happiness can be found in the smallest things, right?
Allowlist/Denylist — Organizers can implement an allow/denylist either at the domain level or by uploading a .csv file with individual email addresses to EventBuilder.

Limit Maximum with a Waitlist — This is good for a wait-and-see strategy. Implementing this option helps you keep some control over numbers and adjust content and production accordingly.

Two-Factor Authentication — I call this one: Zoom Bomber Repellant. This security add-on can be used in combination with any of the primary security options offered.
Here's an insider tip, too: EventBuilder will host your event recording for as long as you have a subscription with us. Your content won't expire, and you have the power to decide how to leverage your recording and extend the life of your event.
We're Letting You In On a Secret
What's the secret? We can do all of this for you. When your event is a big deal and stakes are high, our pros will pick up the ball and run alongside you to make sure everything is taken care of. Bask in the glory of a successful event knowing you have a services squad watching your back. We're your virtual event partners. Contact us for a consultation today!