It's been a while since we've been in touch here on the blog, but we've been working away at some exciting product enhancements and are excited to share them with you. Let's take a look at your new tools!
New Layout Options
We heard you, and now Organizers can choose from three Registration Page layout options; the familiar Classic, and two new choices: Marquee and Clean. Marquee highlights the Title of the Event for Invitees, and the Clean layout offers a streamlined look so Invitees can focus on important registration information right away.
Marquee:
Clean:

A Better Event Summary Report
We know how important data collection is for your post-Event reporting, so we added several new columns on the Event Summary Report to give you a more complete picture. The new columns indicate if streaming, recording, security, and/or Closed Captioning are enabled as well as how many Presenters, Moderators, and Organizers have been configured for Events.

Additional Resources
Organizers can now add additional information on Registration Pages, such as links to company information, supporting information related to the Event's subject matter, etc, Links will appear in the "Contact Organizer" area on the right.

Require a Unique Email For Each Registration
Keep those Attendee rosters accurate! An Attendee may attempt to register for the same Event more than once if they misplace their original confirmation email. Now, automatically help them recover the information they need and keep the Attendee roster accurate.

With this option enabled, if an Attendee tries to register for the same Event with the same email address, they will receive the following message: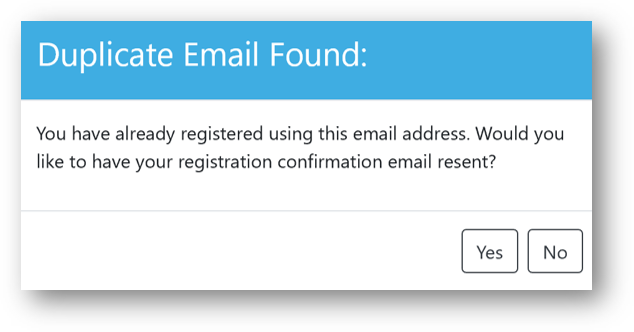 Add to Calendar
Attendees will now see a reminder to add an Event they've just registered for to their calendar.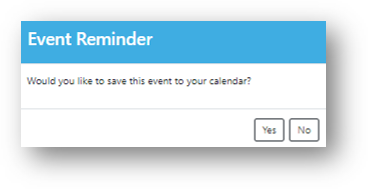 Closed Captioning Indicator
The Information icon will now show an indicator to alert when Closed Captioning is turned on for an Event, helping you ensure Attendees have the access they need to get the most out of your Event.

Event Tags
On Search Pages, Event Tags are now unchecked by default, allowing Invitees to search for the Events they want to register for by topic. This puts the power of Search Pages back in their hands.


Streamlining the EventBuilder Experience
Additionally, we made a few changes to ensure your experience with EventBuilder is smooth and seamless:
Events now have a 15-minute minimum duration.
We've improved the functionality of emails in Templates to communicate much better with you. Email delivery timing will now read 'disabled' if not in use.
Dialog boxes will now stay open when a User highlights and/or copies text within it.
Painless Webinar Delivery
Together with Microsoft Teams or Skype for Business, EventBuilder's suite of services and software creates a complete webinar solution, giving you the event management tools you need and the results you want. Let's show you what EventBuilder can do
!