We've been hard at work for you! In the last few months we've added exciting new features, product enhancements, and functionality to our program we think you'll really like. Let's take a look!
Enhanced Security Features
Program and data security are always a top priority for us as we work to earn and keep your trust. To meet your security needs, we recently added some new features for Portal Administrators to create portal-level protocols for User and data security, including password settings, and the ability for Pro and Suite-level subscribers to password protect report data transmitted via email.
Secure Report Delivery
When Secure Reports is enabled, all emailed reports will be password-protected. Administrators can turn this feature on in the Portal Configuration area:
In the Portal Configuration area, go to the Branding section:
Scroll to the bottom of the page, where you'll see a drop-down menu labeled 'Secure Reports:'

Check our Reports Knowledge Base article for a walk-through on how to use this great new feature!
Portal Login Security
We've empowered Administrators to set protocols for User passwords. As industries place greater focus on data security, EventBuilder is keeping up by adding Portal Login Security tools. When Portal Login Security is enabled, all account holders are required to change their password at an interval Administrators set. The number of previously used passwords allowed can be set as well, requiring users to create unique passwords before reusing old ones:
The Portal Login Security settings are located in the Branding section of your Portal Configuration:

These selections can be changed any time if Admins need to adjust their Portal password settings.
A Better Password Reset Tool:
Can't remember your password? It happens to all of us, right? No problem. Users can reset their password right from their Portal login screen, no Adminstrator intervention necessary:
From the Portal log in screen, click on the 'Forgot Password?' link and simply follow the steps to reset your password:

We want to make certain your experience with us is not only seamless, but more secure. Coming soon: a spam buster for registrations. (Mid-June.)
Better Intelligence and Analytics
Better data equals better decision making about your virtual events programming; tools that help you collect useful information are what sets us apart from the crowd. We know it's important to gather the right information.
Google Analytics Tracking
Google Analytics offers valuable insights into your search traffic and conversions. In a recent update, we added the ability for Adminstrators to add their Portal URL to Google Analytics, helping you harness the power of Google to tailor your webinars and virtual events to the right audiences.
In the Branding section in Portal Configuration, add your analytics code in the space provided:

Report Improvements
A key feature for EventBuilder subscribers, our Reports offer insight into your programming both on a Portal level and Event level. Recent Report improvements include:
All event types in the "Events Scheduled" column are now included, giving you insight into how many events your Users are creating in total, including In-Person Events.

We renamed the Q & A Report to "Messages Summary," encompassing all messages sent and received during an Event, making it more clear what kind of information you will see in the report.
Easier Event Organization and Registrant Management
We are always looking for ways to make organizing and managing your events easier and better, so we've improved communication emails, enhanced the Registrant Management area, and improved the Source Tracking feature.
Registrant Management Tools
We've added several Registrant Management tools, giving Admins and Organizers the power to manage Registrants and their information with ease. We'll take you through step-by-step in the Registrant Management Knowledge Base article.
Communication Emails
We made our system-generated emails more intuitive, dynamic, and flexible, with improvements to the User interface for email timing, allowing attachments to be sent with transactional emails, and we've added new action buttons on all emails sent to Registrants: Edit or Cancel My Registration.
Source Tracking
Creating a custom campaign source URL for each of the channels you use to invite Attendees is more useful now; Organizers can create a list of each tracking URL created, and Organizers then copy, save, or delete each tracking URL, and even add more at any time prior to their Event: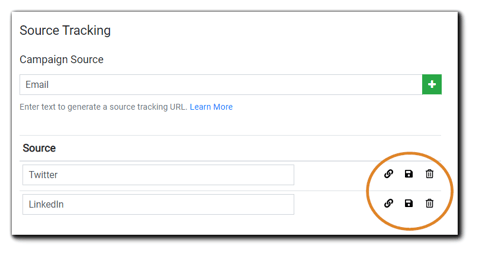 EB Streaming Console Improvements
The EventBuilder Streaming Console, one of our signature products, just got better with new streaming notifications and an often-requested widget: Files.
Know exactly when to start speaking to your streaming audience! We added a notification indicating when your stream is initializing, and when it's actually begun, cueing you to start your presentation. You'll sound as professional and put together as you are.

We have a brand new widget for your streaming Console: Files. If you have files loaded to your Event, this new widget will show you which ones are attached::
Wrap-up
We work continuously to develop our product to integrate with Microsoft Teams and provide Organziers with the tools they need to execute flawless webinars. From cool, original hold music, to customizable security options, EventBuilder gives Teams the functionality and controls you crave for Virtual Events. Contact us today to schedule a Demo, or get in touch with our Sales team to learn more.