Simulated-Live Mode: Great Content, Less Work
Presenting the same content over and over again is literally and virtually exhausting. But, what can you do? Virtual and hybrid events are still on an incredible growth trajectory and popular topics presented by sought-after presenters aren't getting a rest anytime soon. We're starting to hear about "presentation fatigue." (Think 'zoom fatigue' only with more talking and "on" time.)
What can you do? How can you get the same quality content delivered, be present and engaged with your audience, and not feel like you've been run over by the PowerPoint truck every time you host a virtual event?
Enter: Simulated-Live mode.
What is Simulated-Live Mode?
Simulated-live, or "simu-live" as it may be referred to, is a virtual event where pre-recorded sessions/speakers are streamed to an audience, and includes a live presenter and/or moderator to answer Q&A, conduct polls, gauge audience sentiment, and more.
What Are Some Good Reasons to Go This Route?
Cut Production Costs - Save money, especially on speaker costs.
Time Zone Neutral - Go global and have your events follow the sun.
Quality Control - Pre-recorded content will be the same every time, helping you maintain consistency with quality, tech, production, delivery, and staying on track with both topic and timing.
Presenter Reliability - Pre-recorded content can't cancel on you at the last minute or go way off-script.
Flexible Event Design - Conference tracks made easier.
Re-run Season - Reuse the content for different days/times/zones.
Divide and Conquer - Pre-recorded content leaves you room to focus on sponsors, exhibitors (if applicable) and event promotion.
Stress Buster - Who needs stress? Be kind to yourself and take one of the more nerve wracking parts of event management off your plate: live content delivery.
How Does EventBuilder's Simulated-Live Work?
EventBuilder's Simulated-Live Mode is included with our Suite subscription. With this mode, event organizers have the power to upload pre-recorded content to stream to an audience while interacting with attendees in real time using our engagement tools, including chat, polling, attendee sentiment (thumbs up/thumbs down), and more. Building and delivering events with our Simulated-Live Mode is quick and easy:
Create your event, and on the Schedule step, select 'Simulated-Live Webinar.' Once 'Simulated-Live Webinar' is chosen, the field below the Registration Layout options changes to 'Recording:'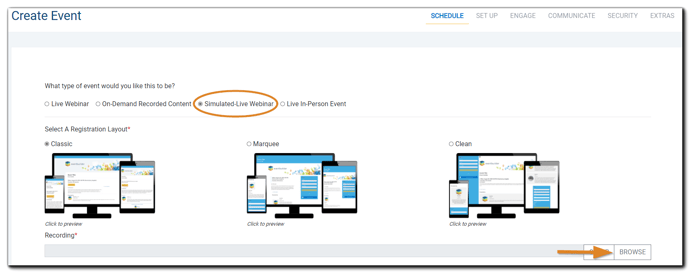 Upload your recorded content here, and continue building your event as usual. Once your event day arrives, you and your presenter/moderator will conduct the event with the EventBuilder Moderator Console, where they can broadcast content and interact with attendees via live chat, polls and poll results, file uploads for event materials, attendee sentiment, and post-event surveys.
All of EventBuilder's reporting, attendee communication options, security, accessibility functionalities, and more are all included with our Simulated-Live event mode.
Control the Variables
Live streams and production coordination can sometimes eclipse other equally important event elements. With simulated-live webinars and virtual events, your speakers, scripts, technical production, and other content-related components are under control ahead of your event. We can all agree that the fewer moving parts you have, the easier it is to focus on other aspects of your event that need attention such as marketing, promotion, attracting sponsors, and getting the most return on your event investment possible.
EventBuilder + Microsoft Teams = Virtual Event Success
With EventBuilder's end-to-end software solution for Microsoft Teams webinars and virtual events, we're helping you add advanced, customizable registration, security, robust reporting functionality, and a choice of multiple modes to your Teams-based events. Contact us to learn more about our software product and event management services.
Getting started with hybrid events? Don't miss out on our whitepaper download: The Ultimate Hybrid Conference Checklist.